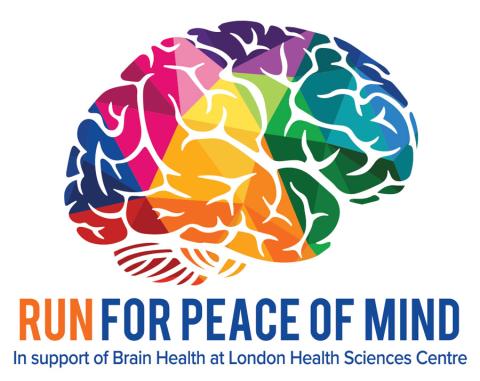 Run for Peace of Mind
Run for Peace of Mind, formerly Mental Health Walk or Run, is open to all ages and levels of fitness and ability.
Walk 5KM, run 5KM or 10KM at Springbank Gardens in all its fall glory!
Funding will help our hospital better serve patients affected by a brain illness because just like any other body part, it needs to be cared for:
Laboratory of Neuro-Oncology and Molecular Neurosciences
First Episode Mood & Anxiety Program (FEMAP)
Prevention & Early Intervention Program for Psychoses (PEPP)
Cornerstone Counselling
This event provides a venue to celebrate, promote awareness and de-stigmatize mental health. There will be music, a silent auction, pizza lunch and mental health awareness displays in the park.
---
Registration: 9:00 a.m.
Welcome Program: 9:30 a.m.
Warm-up: 9:45 a.m.
10K Run: 10:00 a.m.
5K Run: 10:05 a.m.
5K Walk: 10:10 a.m.
Address
Springbank Gardens
285 Wonderland Rd South
London, ON
N6K 3T3
Contact Information
Beneficiary
Laboratory of Neuro-Oncology and Molecular Neurosciences, First Episode Mood & Anxiety Program (FEMAP), Prevention & Early Intervention Program for Psychoses (PEPP), Cornerstone Counselling
Contact Details