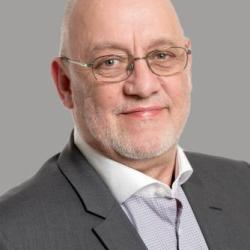 Murray Glendining President and CEO at London Health Sciences Centre (LHSC), one of Canada's largest acute-care teaching hospitals.
Prior to joining LHSC in 2012, Murray was the Executive Vice President of Corporate Affairs for Hamilton Health Sciences Centre. During his 10 years in this role, he also took on the role of Regional Chief Information Officer (eHealth Lead) for the Hamilton Niagara Haldimand Brant LHIN where he led the provincial strategy for an electronic health record within the region.
Murray is a Chartered Accountant with extensive experience in the public and private sectors. His health care background includes CFO positions with a major academic health sciences centre and regional health authority in western Canada. He has also consulted extensively across North America with international consulting corporations. This consulting experience has included working with a number of government agencies including the Ontario Ministry of Health and Long-Term Care.
Murray is highly respected in the areas of finance and research and sits on several committees and boards.