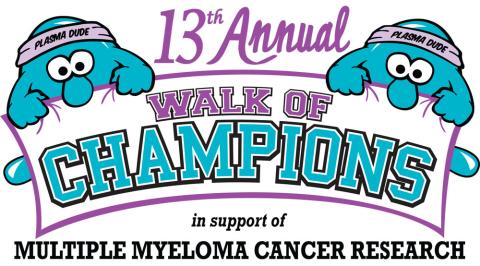 Each year the Childerhose family, the Fleming family and the London and District Myeloma Support Group, along with the generous support of the community, work hard to ensure our annual Walk is a huge success. To date the Walk of Champions has raised over $670,000 for Myeloma Research.
Walk of Champions 2021 - Virtual!
Due to the COVID-19 pandemic, this fun and exciting event will be a virtual event!
WHAT IS A VIRTUAL EVENT?
We are glad you asked! The event idea remains the same. You register, fundraise (if you choose to) and complete your walk on Sunday, September 12. But for everyone's safety, we are encouraging all participants to complete their walk in their own neighbourhood (complying with government physical distancing guidelines). There will not be a physical event at Dorchester Fairgrounds.
We will be hosting a special opening ceremonies online to celebrate the walk. Keep an eye on your emails for more details (and be sure to select 'It is ok to contact me in the future' when you are registering)
ABOUT THE VIRTUAL WALK OF CHAMPIONS
The Dorchester Walk of Champions for Myeloma Research was started in 2009 by Myeloma patients Dan Childerhose and the late Keith Fleming, members of the London & District Myeloma Support Group Steering Committee living in the Dorchester area. They decided to organize a local walk to raise money for Myeloma clinical trials at the London Regional Cancer Program.
Address
Virtual Locations
Contact Information
Beneficiary
Myeloma Cancer Research
Contact Details
Ev McDowell
519-691-5164