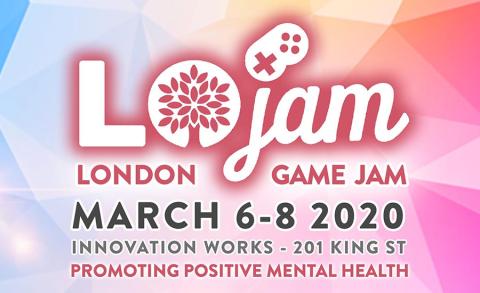 Event Information
LoJam returns for its 3rd year on Friday March 6-8th, once again at the beautiful Innovation Works in Downtown London Ontario!
LoJam aims to help foster and grow the game development scene in London and welcome all who wish to take part, be they beginners, hobbyists, students, or professionals. It's an amazing opportunity for as many as 100 local designers, programmers and artists to come together and collaborate to build their very own video games from scratch!
We're also continuing our unique focus on mental health by encouraging all of our attendees to consider themes that will help promote and inspire positive mental health among the players of their games. We'll also enable fundraising opportunities for anyone who wishes to support London Health Science Foundation so that they can continue running their amazing mental health initiatives, such as FEMAP, which provides treatment for young people experiencing mood and/or anxiety issues, as well as first-episode psychosis.

This year we're changing our funding formula to better meet demands. Entry tickets are $20 which kick starts the fundraising campaign, registers you in the event, gets you dinner on Friday and Saturday night, light breakfast on Saturday and Sunday morning, your game posted on https://lojam.ca/, access to industry leading mentors, and new to LoJam 2020, personal portraits for your social media, Linkedin, portfolio, etc.
Register early as spots are limited and fill quickly! Link to register: Register Here
Also be sure to check out LoJam 2020 for our full schedule, as well as LoJam 2019 to see some of the amazing games that were produced last year!
Address
Innovation Works
201 King Street
London, ON
N6A 1C9
Contact Information
Contact Details
Justin Tiseo
519.685.8717