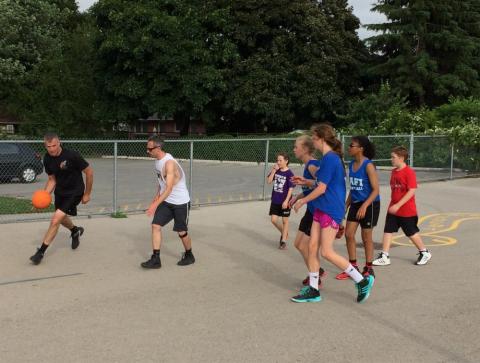 Basketball players unite again!
There is another exciting event coming to Princess Anne French Immersion (PAFI) for students and staff who love the awesome sport of basketball and who like to make a difference in our community. On Friday, June 14, 2019 our school will be hosting the 8th annual Basketball-athon in which approx. 50 players will play pick-up basketball in our school gym and outside for 5 straight hours. Play will begin at 3 pm and wrap up at 8 pm. There will be a 10-minute break every hour to drink, eat, and perhaps rest. We will play 4-on-4 basketball with no score being kept. It is just for fun, exercise, and a good cause. Boys and girls of all skill levels in Grades 5-8 are welcome to participate. Staff, parents, and older siblings are also welcome to join in on the fun. Please note that participants sign up as individuals, not teams of 4. Parents who sign up will be playing with or against their child at most times. The teams will be made beforehand and will change every hour.
This year's event will raise funds for the London Regional Cancer Program located at Victoria Hospital which is where cancer patients go for treatment.
Address
Princess Anne French Immersion School
191 Dawn Drive
London, ON
N5W 4W9
Contact Information
Beneficiary
London Regional Cancer Program