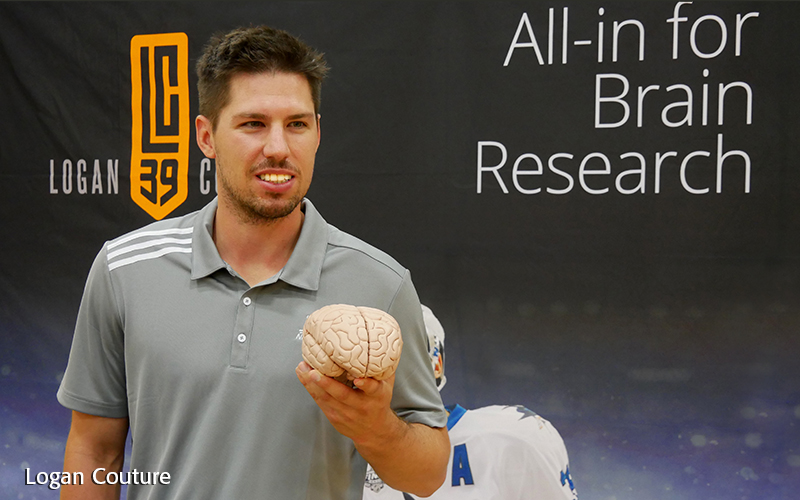 "I remember blacking out for days and even weeks after one of my concussions," says Dylan DeMelo, defenseman for the San Jose Sharks of the National Hockey League (NHL). "It changes how you feel about yourself and how you view things – it is very scary and very real."
The Londoner was back in town for the summer with his teammate Logan Couture, a longtime forward for the Sharks since his impressive rookie start in 2009. London Health Sciences Foundation caught up with both Sharks as they were suiting up in tuxedos for Couture's All-in for Brain Research charity casino night. The event raises money for brain research, awareness and rehabilitation programs at Fowler Kennedy Sport Medicine Clinic (FKSMC) and the Schulich School of Medicine & Dentistry at Western University. 
"This type of casino event is something that some NHL teams have done with their fans at the start of the season to raise money for charities," Couture says. "So we decided to bring it to London since it's never been done here." 
Couture himself is no stranger to head injuries, having suffered a concussion at 16 and another hit last year that sidelined him for four games. He says what he learned from the doctors at Western's See the Line symposium helped him make sense of his injury. 
"I knew the signs to look for right when it happened," he says.
For 2018 Olympic gold medal two-man bobsledder Alex Kopacz, the signs were not always as clear. 
"Just the vibrations alone at 150km/hour on a bobsled – surely this had led to minor versions of prolonged cases of brain injury," Kopacz says. "A concussion could stem from 100 million little taps on the head or one big solid one."
Kopacz and his girlfriend, former skeleton racer Cassie Hawrysh, will also be at Couture's event to help raise money for our body's most complex organ. 
"There are so many elements to concussion – chemical, biological, psychological, and more. We need the funding to get to the bottom of the research in order to be able truly define and treat concussions, and I'm really excited to be part of it," Kopacz says.
Kopacz, Couture and DeMelo all have roots in London and a desire to support research and world-class care in their hometown. 
"London has a huge market of athletes of all kinds," DeMelo says. "So raising awareness and funds towards research is vital because there are so many kids that are coming up and playing sports."
Couture couldn't agree more. 
"It means a lot to do this event in the town that I grew up in," he says. "Anything we can do to help the doctors and the researchers when it comes to brain injuries and recovery is beneficial. " 
The event is a black-tie optional charity casino in which all the games are for fun only (not cash). More than 500 people are expected to walk the red carpet with the chance to meet some of their favourite athletes and NHL stars, who will be stationed at the various casino games. Music, dancing, appetizers and not-to-be-missed silent auction will round out a fabulous evening for brain research. 
"I was able to get a lot of guys throughout the NHL to sign jerseys while we were playing them this year," Couture says.  "If you think of every team in the NHL, there will be jerseys signed by the top players up for auction."
"My goal is that everyone has a fun time, that everyone who goes to the event wants to come back again and that we raise lots of money to benefit the charities." -Logan Couture
​
Dylan DeMelo, San Jose Sharks; Logan Couture, San Jose Sharks; Curt Collins, Collins Formal Wear;
Boone Jenner, Columbus Blue Jackets;  Alex Kopacz, Olympic Bobsledder; Cassie Hawrysh, International Skeleton Racer
---
FUN FACTS

From broken ankle to a storied athletic career:
When Alex Kopacz broke the talus bone in his ankle in Grade 9, it was predicted he would not be able to play sports in high school. However, LHSC orthopaedic surgeon Dr. Kevin Willits repaired his ankle and within a year of rehabilitation at FKSMC, Kopacz was back to playing football, won state champions, competed in track and field, swimming and shot put throughout high school and university, and was eventually encouraged to try bobsled at the age of 23. At 28, he is now a gold-medal athlete and mechanical engineer working on obtaining his second Western University degree in physics.
Favourite casino games:
Logan Couture – Blackjack
Dylan DeMelo – Blackjack and Craps
Other celebrity guests:
Drew Doughty, two-time Stanley Cup champion, Olympic Hockey Gold Medalist and Los Angeles King
​​​Damian Warner, Olympic Bronze Decathlete
Eric Lindros, Hockey Hall-of-Famer and Olympic Hockey Gold Medalist
Boone Jenner, Dorchester native and Assistant Captain for the Columbus Blue Jackets
Stay tuned for more celebrities...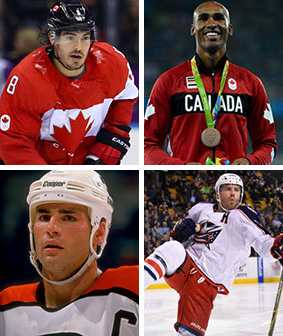 ​