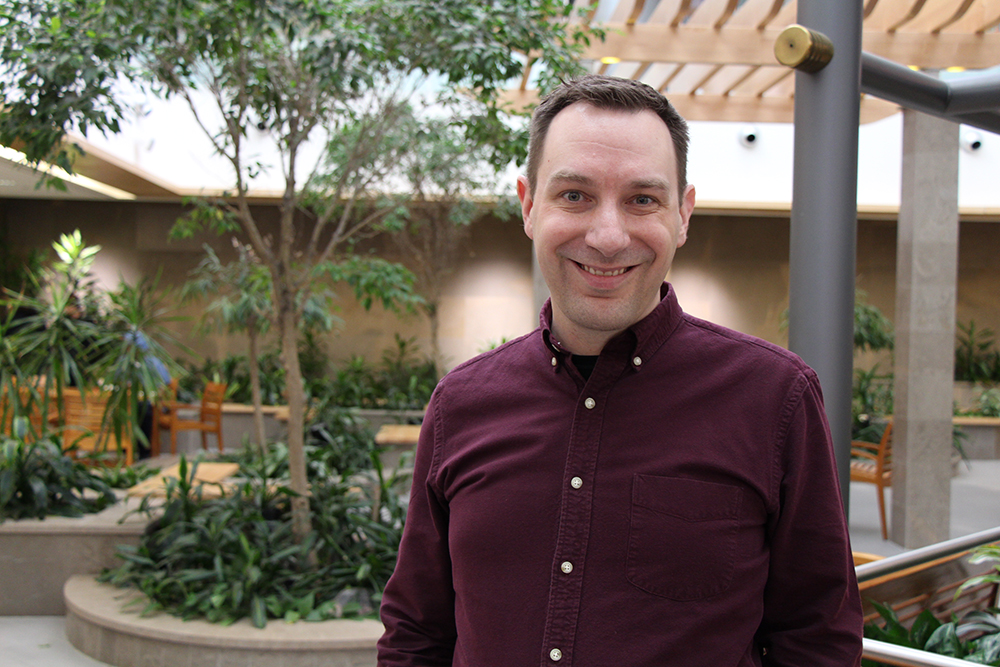 When you're a young, career-driven professional, landing a job in a vibrant city of possibilities is often the dream.

That dream seemed to be coming true for Andrew Kaszowski, now 35, when he landed an exciting new job in Montreal four years ago. He sold his house in his hometown of London, made the move, and began navigating the bilingual city, approaching it with a sense of adventure and optimism.
Despite his hopeful outlook, the changes caused his mental health to nosedive. All of a sudden, he was alone and despondent. He felt trapped in the city and hopelessly overwhelmed, with no local support system in place to help him identify what he was going through.
"I was really out-of-sorts and my brain was just not working the way it was supposed to," Andrew says. "I was alone there and very confused. I blew hundreds of dollars calling my family and friends long-distance as the crisis deepened for me."
Feeling incapacitated by the blow to his mental health, Andrew moved back to London and immediately sought help from his family physician. The crash of his dream hit him hard.
"I had suicidal thoughts," he says. "It was pretty harrowing."
The medication his physician prescribed finally began to lift Andrew out of the deep tailspin and mental confusion. Feeling more-or-less like his normal self again, he returned to the workforce, taking on a job he hadn't realized would be so high-stress. Soon, he was drowning in work and it came all-too-soon after his recent bout of depression.
"I went pretty much into full-blown mania," he says. "It was a tremendous amount of stress. I would wake up in the morning—if I had been able to get any sleep that night—and 'bam!' racing thoughts would ram me in the head."
His family knew he needed urgent help and brought him into the emergency department at London Health Sciences Centre's (LHSC) Victoria Hospital. Andrew's psychiatrist diagnosed him with bipolar disorder and put him on a treatment plan tailored to his needs. He also began a Cognitive Behavioural Therapy (CBT) program, where he learned tools to regulate his thinking. Mindfulness meditation sessions helped him slow his thoughts and relax. He found sharing and getting to know other patients helped his healing process.
"It was so comprehensive," he says. "The CBT and all the tools I learned in concert with the medication just kind-of all clicked for me."
On the mend, Andrew returned home nearly a month later. But within a year, depression weaseled its way back into his thoughts and he was back at LHSC, this time without the highs of the mania. He was assigned a new psychiatrist, Dr. Kamini Vasudev, who sees both inpatients and outpatients, which proved to be the key ingredient to Andrew's treatment.
"Dr. Vasudev has been my rock through the last two years. With her having that outpatient practice, it made for a really nice continuation of care. It was amazing," Andrew says.
When he left the hospital the second time, Andrew felt confident he could maintain his health. He found an employer conscientious of his mental health that helped come up with a plan to ease him into full-time work. He started working three days a week, and then moved up to four and has been full-time for a year now.
"To have meaningful employment in concert with working with Dr. Vasudev has just been great. It's now been more than a year of relatively good wellness," he says.
Andrew continues to check in with Dr. Vasudev often. His parents, who have been a great support during his journey with bipolar disorder, often join Andrew on his appointments to learn how they can best support him through his treatment. Andrew also recently moved into a new apartment with a longtime friend, and sees a psychotherapist to complement the care and tools he learned at LHSC.
"It's not an easy journey – even today," reflects Andrew. "I have incredible friends and a loving family; but it's still intimidating to reach out and get help… there's still a huge stigma. But when you open the door to care, it's the gateway to support and putting yourself back together. The message really needs to get out about the care that you get at LHSC. It's been transformative."