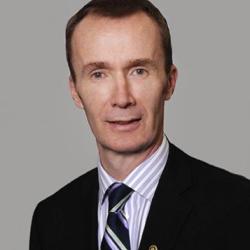 A graduate of the Dalhousie MBA program, David Blyth is the Vice President, Corporate Finance, Ontario Southwest District for the Bank of Montreal. His regional responsibilities include the cities of Windsor, London, Chatham and Sarnia.
David started with the Bank of Montreal back in the late 80s, and before his current post he also held the positions of Commercial Account Manager, Director of Innovation and Technology, Commercial Sales Leader, Commercial Banking Area Manager as well as Director and Team Lead for Corporate Finance for the Prairies region.
David is also on the Boards of Directors for the London Chamber of Commerce and the Assumption Heritage Trust, located in Windsor.