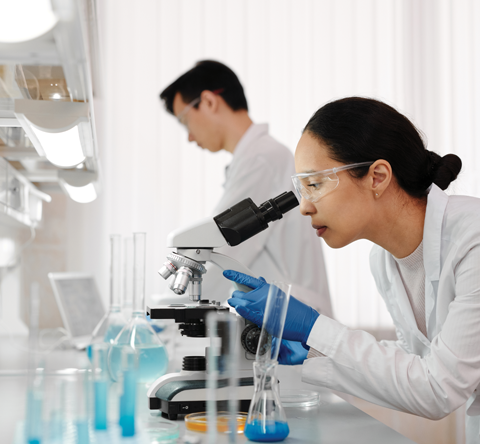 Before Canada saw its first COVID-19 case, medical minds around the world were working tirelessly to learn about the virus and join the global effort to save lives. Your donation in hope for a better future, has given researchers and scientists at London Health Sciences Centre (LHSC) the opportunity to take part on the world stage. They are now making discoveries that will help treat patients with the virus both locally and internationally.
The following is an update to several ongoing research projects happening here in London:

Sedative Shortage Sparks New Clinical Trial
As health care workers around the world grappled with the flurry of COVID-19 patients coming through their doors, they were also faced with equipment shortages required for saving them. For the Intensive Care Unit (ICU), this included a global shortage of intravenous (IV) sedating medication that are needed to allow critically ill patients tolerate mechanical ventilation. Due to extreme demand and supply chain disruption during the peak of the pandemic, researchers and medical staff needed to find a solution, and they needed to find it quickly.
Dr. Marat Slessarev, a critical care physician at LHSC, and his team, took on the task of finding a solution with the idea of using inhaled anesthesia. Used routinely in the operating room during surgery, this type of sedation is typically safe, inexpensive and readily available not just in Canada but worldwide. In addition, earlier studies have shown using inhaled anesthesia may have beneficial effects on the lungs including reducing inflammation and opening up small airways to improve oxygen levels. So, what's the drawback? ICUs currently do not have the equipment, staff or processes in place to facilitate this type of procedure.
For this reason, the idea will soon translate to clinical trials. Their goal will be to determine whether sedation with inhaled anesthetics improved survival of ventilated patients with COVID-19 pneumonia compared to standard IV sedation. Dr. Slessarev and his team will also look to prove whether inhaled anesthetics shortened the patient's time on ventilation, preserving capacity in ICUs during the pandemic and ultimately making more ventilators available.
Before delivering this intervention in a clinical trial setting, the team must first purchase appropriate equipment, create clinical processes and protocols as well as educate staff.
With the help of donor funding, the research team was able to kick-start the project with the purchase of bedside anesthesia monitors that integrate into the existing ICU monitors.
"This will essentially allow us to measure levels of inhaled sedatives to ensure we can deliver them safely both during the trial and beyond if sedation with inhaled anesthetics becomes standard of care," explains Dr. Slessarev.
If inhaled anesthetics prove to be superior to IV sedation, it could cause a paradigm shift in the way hospitals sedate patients in the ICU worldwide.
---
New Non-Invasive Ventilation Mask Approved by Health Canada
Severely ill COVID-19 patients can hardly breathe. The use of traditional non-invasive ventilator masks, however, poses a risk as viral airborne droplets can seep into the air. Thanks to Dr. Tarek Loubani, an LHSC emergency physician and Lawson scientist, and a creative multi-disciplinary team of engineers, physicians, nurses and respiratory therapists, a new Aerosol-Reducing Mask (ARM) was created.
The mask, which ensures air filtration and a tight seal around the patient's face, has been approved by Health Canada and is awaiting FDA approval. ARM has been lab-tested and is halfway through completing a clinical trial in London. Already, the team has confirmed a dramatic decrease in leaks and the ability to optimize the mask for existing respiratory systems.
Dr. Loubani has made the instructions for reproducing the mask available online along with data and processes to make sure it is safely used. By having readily available open-source plans, he hopes to lower the barrier of production for remote communities around the world.
"Our goal is not to create a device and put it out there," says Dr. Loubani. "Our goal is to make people's lives better and make people healthier."
---
Global Trial Produces Conclusive Evidence for Targeted Therapies
For researchers around the world, it's a race against time to find a vaccine to fight COVID-19. But each day the virus exists, more people are dealing with its life-threatening effects. To bridge the gap, researchers in The Solidarity Therapeutics Trial, the world's largest randomized control trial on COVID-19 therapeutics,
are generating conclusive evidence on ways to treat infected patients.
Thanks to donations to the COVID-19 response fund, after only six months, interim results have shown treatment using remdesivir, hydroxychloroquine, lopinavir/ritonavir, and interferon regimens appeared to have little or no effect among hospitalized patients. These results are now in review for publication in the New England Journal of Medicine - a prestigious peer-reviewed medical journal.
Now, newer antiviral drugs, immune regulating medications, and antibody treatments are being considered for evaluation. And with nearly 500 hospitals open as trial sites around the world, these promising new options will be evaluated even faster.
Principal investigator for the study, and London's city-wide Chair/Chief of Infectious Diseases and Lawson scientist, Dr. Michael Silverman states, "We at LHSC are proud to be part of this global effort to rapidly produce critical evidence to inform best treatment options for our patients and patients around the world."
---
Discoveries Help Sort Future Clinical Trials
Dr. Douglas Fraser, a critical care physician at LHSC and Lawson scientist, along with his team, have made several leading discoveries using blood samples from COVID-19 positive patients. Their discoveries include: determining a new diagnostic method that is relatively inexpensive and that could become widely available, the identification of six proteins that accurately determine a patient's disease severity and outcome; finding blood vessel injury as the cause for clotting, particularly in the lungs; and, locating key therapeutic targets in order to treat life-threatening hyperinflammation.
These discoveries are crucial in helping inform future COVID-19 clinical trials. "There's going to be a number of large clinical trials coming up," states Dr. Fraser. "It's very important to be able to target therapeutics based on evidence and to stratify patients into different groups... and to stratify those patients early so that we can do the best we can with those clinical trials off the bat."
To date, Dr. Fraser and his team have published five peer-reviewed papers in respected medical journals and they have four more in review. As well, four patents have been filed which will help protect intellectual property and ensure future generations and collaborations are possible.