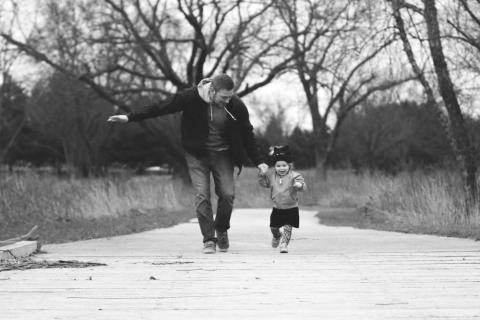 Giving through your estate
A gift in your Will is the future of health care in our community.
At some point in our lives, we begin to think about the impact we will have on the world after we're gone. What will people remember about us? Have we left our community a healthier place than when we arrived? How can we ensure the things that are important to us carry on?
Every day, donors just like you leave meaningful footprints on our world through legacy gifts.
Thank you for considering London Health Sciences Foundation in your estate planning, we would be honoured to welcome you to our Donors for Tomorrow Society.
Kindly inform us of your plans for a legacy gift by clicking here.
Will Wording Sample
The following sample wording options for structuring a bequest through a Will should help establish a legacy gift that best suits the donor's needs and wishes:
I direct my Estate Trustee to give to London Health Sciences Foundation for the benefit of London Health Sciences Centre the sum of $_____ (or_____% of my residue) to be used for the purpose of _____________ (examples include: highest priority needs or a specific program*), provided that if such purpose ceases to exist or ceases to be provided by London Health Sciences Centre, then the legacy shall not fail but the Directors of London Health Sciences Foundation shall use such legacy for a medical purpose which most closely resembles the purpose set out above.
*Specific programs include Cancer, Mental Health, Cardiac, Orthopaedic, Women's Care and Emergency Medicine.
* Donors may choose to support LHSC through the following fundraising pillars: research, patient care, equipment, education.
NOTE: Our Charitable Registration Number is 89478 1475 RR0001
Resources for Lawyers & Professional Advisors
London Health Sciences Foundation is profoundly appreciative of legacy gifts from our community including Bequests, gifts of life insurance, registered investment accounts like RRSPs, RRIFs and TFSAs and other end-of-life gifts, as they ensure our future remains solid and able to sustain the excellent quality of patient care we offer our patients and their families.
Estate Service Documentation should be mailed to:
London Health Sciences Foundation
747 Base Line Road East
London, ON N6C 2R6
Attn: Legacy Giving
Legal Name
Gifts and bequests to support London Health Sciences Centre should be made to London Health Sciences Foundation as the entity responsible for issuing tax receipts for charitable gifts to the hospital.
Charitable Registration Number
89478 1475 RR0001
London Health Sciences Centre is comprised of:
Victoria Hospital - 800 Commissioners Road East
University Hospital - 339 Windermere Road
Byron Medical Centre - 228 Commissioners Road West
Victoria Family Medical Centre - 60 Chesley Ave
Fowler Kennedy Sport Medicine Clinic - 1151 Richmond Street
Westmount Kidney Care Centre - Westmount Shopping Centre (785 Wonderland Road South)
Lawson Health Research Institute - 750 Base Line Road East
Gifts to support any of the above should be directed/donated/payable to "London Health Sciences Foundation" (747 Base Line Road East).
Become a Donor for Tomorrow
Our esteemed Donors for Tomorrow Society is comprised of donors who have made the important decision to support London Health Sciences Foundation by way of a future estate gift.​

The annual Donors for Tomorrow luncheon is designed to update our members on how donor support is transforming key hospital programs. Each year, the luncheon features a captivating presentation about recent developments within a unique area at LHSC. Our physicians and researchers tailor their presentations to the interests of our donors and illustrate how legacy giving will shape the future of health care.

Last year, due to COVID-19, we went virtual. To view an exclusive online discussion with three Lawson researchers, moderated by Dr. David Hill, Scientific Director of Lawson Health Research Institute and Integrated Vice President, Research for London Health Sciences Centre and St. Joseph's Health Care London. Drs. Fraser, Slessarev, and Loubani each share an overview of their COVID-19 research projects, their current findings and future plans. You can watch the Donors for Tomorrow Livestream event below.
How to Leave a Legacy
Gifts made by Will
Bequests are gifts made through your Will. You can leave a specific amount of money, a piece of property or a portion of your estate residue. Since you can claim up to 100% of your income on your final tax return and carry back any excess to the previous year, the tax relief created by an estate gift can be significant. The cost for an experienced estate lawyer to create a well-drafted, valid Will is small, given the peace of mind provided by knowing it is done properly.
The most flexible wording is to leave your gift "to London Health Sciences Foundation for its general purposes." Alternately, you may designate your gift to a specific area, in which case we can work with your lawyer to create the correct wording. Most importantly, sharing your intentions will allow us to thank and recognize you now, while also allowing us to plan for the future.
Donations of RRSPs and RRIFs
When the Foundation is designated as beneficiary of your RRSP or RRIF, the proceeds are paid directly, bypassing your estate and avoiding estate administration taxes. The charitable tax receipt issued will eliminate most if not all, of the very significant tax generated by the realization of your registered plan on your death.​​​​​​
Life Insurance
Life insurance can benefit both the donor and LHSC when the Foundation is named beneficiary. Upon death, the proceeds pass outside your estate, providing both privacy and protection from estate administration taxes (formerly known as probate fees) and the charitable tax receipt issued will alleviate the tax burden on your estate. It is also possible to donate a new or existing policy during your lifetime, irrevocably making the Foundation both owner and beneficiary, in which case you will receive a charitable tax receipt from LHSF for the fair market value or cash surrender value on the policy when donated, as well as for any future premiums you pay.
Donations of Securities "In Kind"
Donating certain publicly traded securities "in-kind" (or in their current form, unsold) to the Foundation, either while you are alive or through your estate, will exempt you (or your estate) from paying tax on the capital gain triggered by the donation. In addition, you receive a charitable tax receipt for the fair market value of the gift, making this strategy an exceptional way to maximize your tax savings while supporting LHSC in a significant way.
Charitable Gift Annuities
A Charitable Gift Annuity is an attractive option for older donors, allowing them to collect annuity payments for the rest of their life, while at the same time benefiting LHSF. Part of the donor's gift (typically up to 25% of the total value) is an immediate donation to the hospital for which a tax receipt is issued. LHSC then uses the remaining funds to purchase a commercial annuity on the life of the donor and that annuity pays the donor income, largely tax-exempt, for their lifetime.
"I wanted to leave a gift to the Foundation to be put toward kidney research at LHSC. I want other people to know they're not alone. I want to help give families and patients the same hope my care team continues giving me."
Amanda McCutcheon, Legacy Giving Donor
For a confidential discussion about Legacy Giving, please contact: 
Kathy Papineau-Thornhill
Manager, Legacy & Memorial Giving
519-685-8785
kathy.papineauthornhill@lhsc.on.ca

Simona Dobransky
Senior Legacy Giving Officer
519-685-8798
simona.dobransky@lhsc.on.ca

Estate Service Documentation should be mailed to:
London Health Sciences Foundation
747 Base Line Road East
London, ON  N6C 2R6
Attn:  Legacy Giving

Charitable Registration Number
89478 1475 RR0001
INFORMATION CONTAINED HEREIN IS CORRECT AT THE TIME OF WRITING, IS GENERAL IN NATURE AND IS NOT INTENDED TO REPRESENT LEGAL OR TAX ADVICE. IT IS RECOMMENDED THAT YOU CONSULT YOUR OWN TAX AND LEGAL ADVISOR(S) WITH RESPECT TO YOUR PARTICULAR CIRCUMSTANCES WHEN DOING YOUR TAX OR ESTATE PLANNING.