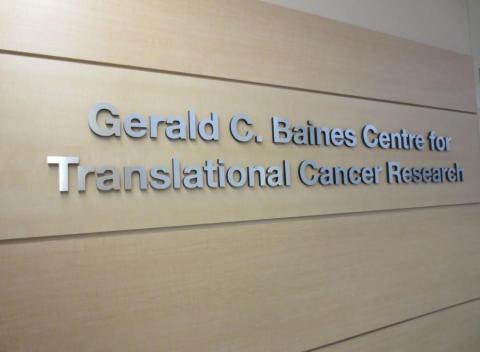 Gerald C. Baines Centre for Translational Cancer Research was brought to life with a vision for improved cancer treatments and patient outcomes. With outstanding support and generosity from our community, the Centre raised enough funds to expand programs, grow clinical trials, hire much needed staff and conduct life-saving research.

Today, the Baines Centre remains a busy hub, where translational research investigators work together to generate novel approaches to cancer prevention, diagnosis and treatment. With a strong focus on innovation, knowledge generation and rapid translation of discoveries, the Centre is now an incubator for ideas that are saving and extending lives in our community and around the world.
Clinical Trials
Dr. Stephen Welch & Richard McClelland
This past year was another banner year for innovation led by investigators in the Department of Oncology at London Regional Cancer Program (LRCP). Here are just a few highlights:
The Clinical Cancer Research Unit (CRU) achieved their goal of increasing the number of clinical trials available to patients. The result was a 25% year-over-year increase in patients participating in clinical trials, and more than half participated in local physician-led studies. In total, the CRU held 275 clinical trials in 2019 alone!
Building off last year's homegrown MIMic study (a first of its kind in metastatic melanoma to study the impact of changing the microbiome of the gut), the CRU participated in the PERFORM study, which applies the fecal microbial transplant process to kidney cancer patients receiving immunotherapy, with the goal of minimizing toxicity of immunotherapy drugs. Dr. Stephen Welch & Richard McClelland.
Another homegrown success was the CITaDeL study, reaching their goal of full patient participation. The goal of this study is to identify an alternate time to measure ctDNA, allowing more patients to benefit from targeted therapy and reduce the need for invasive biopsies.
Baines Imaging
Dr. Sarah Mattonen, Dr. Aaron Ward & Dr. Len Luyt
Donor support has and continues to be critical to our developments of software systems designed to assist in both the labs and in the clinic, and to the cultivation of the MSc and PhD trainees who will be our next generation of translational researchers.
This past year marked the beginning of the Mattonen Lab as part of the Baines Imaging Research Laboratories. After moving into a brand new space in July, 2019, the lab has grown their team, developed several collaborations with clinicians, and made great strides in cancer imaging research, all while continuing development on two separate imaging software systems for lung, and head and neck cancer.
Computer systems are becoming an important component of cancer detection, diagnosis, and treatment. We are currently developing software that allows pathologists to provide a detailed and precise pathology report to clinicians that will support potentially life-saving therapy. This system is showing great promise for non-invasively detecting and classifying cancer, while we are currently developing artificial intelligence to help physicians interpret these reports..
We are also continuing the develop a prototype that automatically determines mutations in tumours. This system will determine whether immunotherapy would be appropriate for cancer patients.
The molecular imaging lab is continuing to discover new cancer imaging agents used to treat and detect cancers, with a goal of more accurate detection, potentially extending and saving lives.
General Baines Fund
Dr. David Palma
Dr. David Palma and his team have launched an online training course for radiation oncology residents, the Anatomy and Radiology Contouring Bootcamp. Click here to learn more.
Building on the evidence of the first successful SABR-COMET trial, Dr. Palma and his team have been busy implementing and enrolling patients to new ground-breaking trial over the last six months. The SABR-COMET 10 trial uses intensive doses of radiation in patients with cancer that has spread to ten different parts of the body. Their hope is that this super-charged radiation will kill or shrink tumours enough to help extend and save the lives of these patients. The trial includes sites around the world, including Canada, Australia, the Netherlands, Scotland, and Belgium.