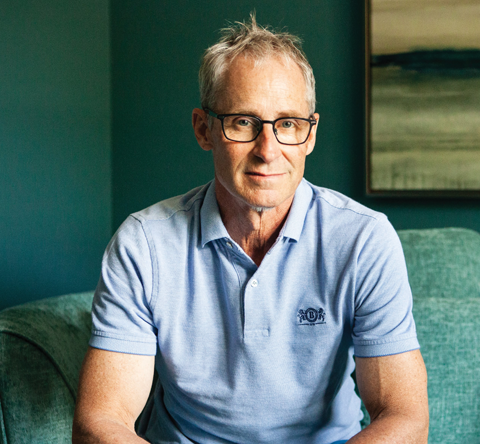 YOUR IMPACT


Imagine the shock of learning you have cancer. Now imagine that cancer had the lowest survival rate.
That was the blow Rick Baker and his wife Shelley were dealt in 2016, when Rick was diagnosed with stage IV pancreatic cancer. Given only six months to a year left to live, the Bakers were overwhelmed with emotion; they had so many questions. Mortality has an interesting way of putting everything into perspective. But if you were one of the lucky ones to have known Rick, you would have known a relentless determination bent on inspiring hope and change. And so, that's exactly what he did.
Because treatment options were limited here in Canada, Rick and Shelley looked beyond our borders for alternative methods of combatting the disease which had already spread into his liver. He underwent standard chemotherapy treatment all the while doing the research and legwork to gain access to newer, less available therapies. Experimental treatments he received abroad combined with the care from local doctors suddenly found Rick on the other side of his initial estimate for survival. For three-and-a-half more years he kept going—every month, every week, every day another victory, until September 22, 2020, Rick Baker passed away.
The funny thing about inspiration and hope, though, is that they're never really gone. A year before Rick's passing, he and Shelley made the magnanimous decision to donate $1.5 million to London Health Sciences Foundation (LHSF), helping to launch the Baker Centre for Pancreatic Cancer at London Health Sciences Centre (LHSC). Focusing on the care and research of pancreatic cancer, the Baker Centre aims to improve access to experimental treatments, as well as offer faster, more accurate diagnoses.
"The Bakers' generous gift and support of the program is truly inspirational; without them the Baker Centre for Pancreatic Cancer would not exist," said Dr. Stephen Welch, Division Chair for Medical Oncology at LHSC. "Through enhanced care, technology and research, this centre will have a major impact on the lives of pancreatic cancer patients in London and around the globe."
Indeed, as Rick and Shelley discovered in 2016, one of the reasons pancreatic cancer is so difficult to treat is because it's often not detected until later stages, when it's already moved into other areas of the body. But thanks to advancements in genetic testing, doctors were able to target specific anomalies in his tumour's DNA, which slowed the cancer's growth. The problem was, this treatment was only available in the United States, where the Bakers had to pay out-of-pocket.
From the onset, Rick saw that the dearth of cutting-edge technology and experimental treatment options for pancreatic cancer patients was causing serious setbacks in Canada's ability to help those afflicted. But this wasn't for lack of trying. Dr. Welch and his team of oncologists at LHSC were doing their best to champion and implement innovative care solutions, however the funding simply wasn't there.
Now, a truly transformational shift is well underway. Just over a year after the Bakers' donation in July 2019, the centre has reached $4.5 million of its $5 million fundraising target. Because of this outpouring of generosity from donors, the team at the Baker Centre has already been hard at work running a number of clinical trials intent on producing new diagnostic and treatment options for pancreatic cancer patients.
Such trials include the development of a database that will measure the effectiveness of treatments often accompanied by surgery, and another that is using a form of radiation therapy to precisely target cancer cells while minimizing damage to surrounding tissue. Currently, the Baker Centre team is awaiting the arrival of an endoscopic ultrasound, an imaging device that represents one of the best methods of making a definitive pancreatic cancer diagnosis. State-of-the-art advancements like these will continue to allow LHSC to provide leading pancreatic cancer care, eliminating the need for patients to look elsewhere for treatment options.
We are deeply saddened by the passing of Rick Baker after his long battle with pancreatic cancer. He was an incredible man with a remarkable vision to change care for pancreatic cancer patients everywhere. Rick's passion and generosity inspired us all and we are incredibly grateful for his philanthropic zeal over the past four years. And while our thoughts are with the Baker family during this difficult time, it's comforting to know that his legacy will endure through the lives he will undoubtedly change because of his ability to recognize an opportunity and stop at nothing to see it realized.