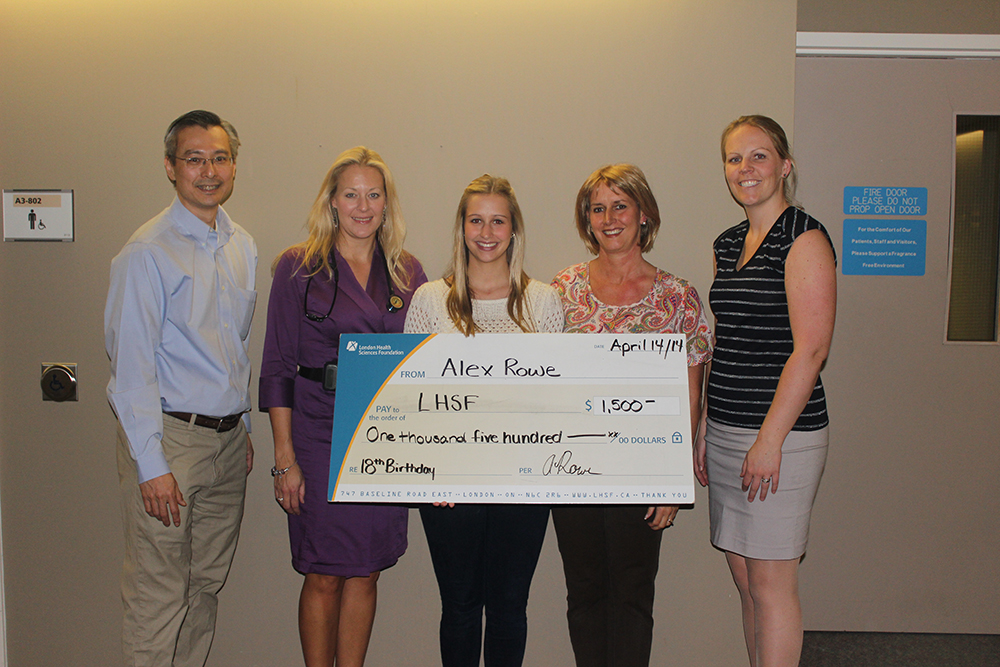 In January of 2014, 17- year -old Alex Rowe decided to do something a bit different for her upcoming 18th birthday. "Birthdays are my thing," Alex says. "My mom always made a huge deal out of mine and my sisters' birthdays. I would always have one party with my school friends and one party with my sports friends."
But for this particular year, Alex wanted her birthday to have a big impact. Rather than receiving gifts, she asked her friends and family to bring a toonie to her birthday party. Alex's plan was to raise donations in honour of her parents, who were both undergoing cancer treatment at the time.
Since this was a hard time for both her and her family, Alex really wanted to bring some happiness and lighten the mood. "I remember I didn't tell my parents [about pledging my birthday]. Then when my first few friends arrived and gave donations, my parents were just in tears. They were going through so much, and were finally happy about something."
Friends and family ended up bringing much more than just toonies – partygoers showed up with $20 and $50 donations to show their support, and Alex's birthday ended up raising over $2,000! "Seeing all my friends come together, I felt like they finally understood what I was going through," Alex explains.
Once the party was over, that was just the beginning. Alex had her mind set on donating a portion of the funds to the Tim Horton's located in London Health Science's Centre's (LHSC) London Regional Cancer Program (LRCP), but held on to the remaining funds until she knew exactly what she wanted to do with it.
On the Friday morning of her dad's last radiation treatment, Alex donated close to $700 to the Tim Horton's. "Everyone got what they ordered for free," Alex explains.
On this same day, Dr. Eugene Wong, a professor at Western University, ordered a coffee and found that Alex was responsible for his free beverage due to her generous donation. It was this professor who informed Alex about CIBC Access Cancer Therapies (ACT) Now, an initiative that helps patients at LHSC pay for cancer treatments not covered by Ontario's health insurance plan (OHIP).
After learning about ACT Now, Alex was eager to donate the remaining $1,500 to the program. "I think it's such an awesome program, not enough people know about it," she says. "I would really like to see the program grow and get bigger, so that they are able to raise money for those in need."
Not only was Alex able to make a great contribution to ACT Now, but has now partnered with Dr. Eugene Wong to create the "ROWE Scholar: Reach Out for Western's Education" — a free tutoring program for high school students whose family member has been affected by cancer.
After pledging her birthday, Alex really wanted to help others that were in the same position and plans to pledge another birthday in the future. "Life is really short and things happen really fast. You don't have to be at a low point to [pledge your birthday], you don't have to be sad. It's just something you can do to help someone else, whatever the reason may be."
Now 21, Alex is gearing up for her 4th year of Nursing at the University of Ottawa. Once she's graduated, Alex hopes to work in Oncology to honour both her parents who passed in her early years of University. Since their passing, Alex's large group of friends has carried on the tradition of throwing her a huge, unforgettable birthday party.
Click
here
to find out how you can make a difference by pledging your birthday.