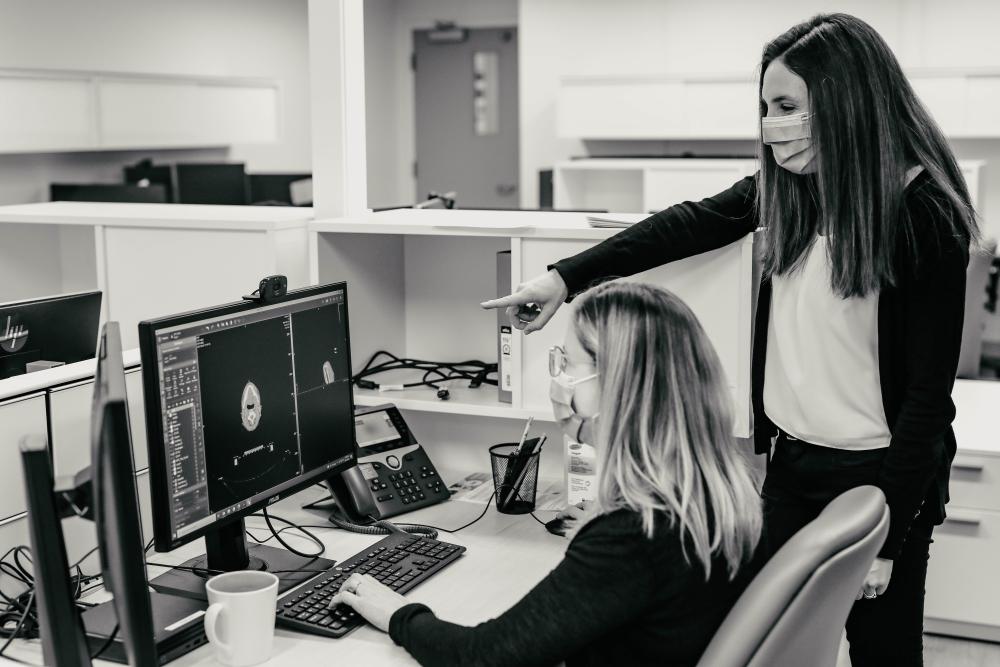 Radiation oncologist Dr. Pencilla Lang tells patients she's not a crystal ball. She says she can't predict the future but she can make a pretty good guess.
Over the past few years, there's been massive interest in the application and integration of artificial intelligence (AI) within medicine. And as advancements have continued to speed along, more areas of medicine are seeing the benefits of computer assisted technology. As such, the team at London Health Sciences Centre's (LHSC) Gerald C. Baines Centre for Translational Cancer Research have been breaking new ground by bringing AI into cancer care.
"AI can be used to solve a number of problems," Dr. Lang says. "One of the ways it can help is by building models or algorithms that allow it to make certain predictions, just like how you or I can make a guess."
There's a certain level of consistency with AI, too, which is a big part of its appeal. Because whether we like to admit it, humans aren't perfect. Doctors, like anyone, can make mistakes. They can have different opinions from one another, and experiences that shaped those opinions. In a way, by focusing solely on the data entered into its algorithms, AI can help keep us objective.
So, with the full and generous support of donors, Dr. Lang, Dr. Sarah Mattonen and Karen Eddy were brought on to begin building the Baines Centre database, a comprehensive tool allowing researchers to perform analysis using imaging data as well as clinical demographics. From CT scans to PET scans to x-rays, the team is sifting through image after image to streamline workflow for researchers and map out treatment plans for physicians.
"Our focus right now is predicting treatment toxicity and outcomes for patients with lung cancer and head and neck cancer," Dr. Mattonen, an imaging scientist at the Baines Centre, explains.
And since imaging plays such a vital role in both the diagnosis and treatment planning of these diseases, you need someone who can accurately and efficiently collect, analyze and enter all the right information into the system.
"I'm kind of like a keeper of the data," says Karen Eddy, the Baines Centre's database builder.
Don't let her quiet demeanor fool you, Karen's work is as necessary as it is painstaking. By organizing hundreds of patient scans, Karen is helping ensure more people have access to personalized care. As Dr. Lang is quick to point out, without the technology they're building, it's a one-treatment-fits-all approach, which is simply not tenable for patients affected by cancer.
"With this tool, we want to create detailed patient pathways and treatment plans specific to the individual," Dr. Lang says enthusiastically.
Because after all, it's not just about living but living well.