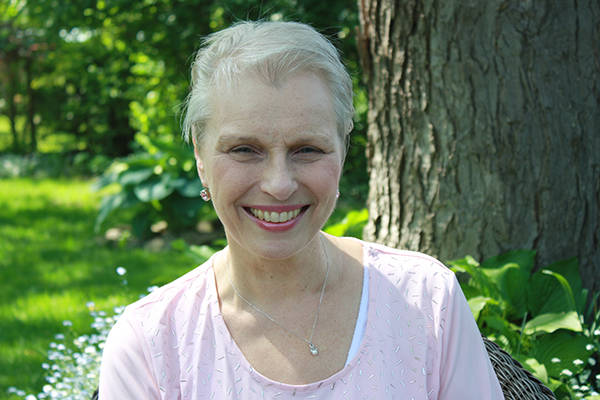 When Bonita Stevenson was diagnosed with breast cancer in April of 2013, she immediately underwent surgery and was put on a rigorous schedule of chemotherapy and radiation. Within a year, she was on the path to recovery after completing her treatment and taking an anti-hormone drug to prevent the spread of cancer.
One year later, in January of 2015, everything changed. She was walking her dog on a cold, wintry day, when she slipped on an icy patch and fell. She went to be treated for her injury and to her shock, found out the drug had been ineffective and the cancer had spread.

"Before then, I was living through what I thought was a fairly promising prognosis," says Bonita. "All of a sudden that's changed and I just thought, 'Now what do we do?'"

Having worked as an administrator in the medical field for 35 years, Bonita was no stranger to reading medical imagery. So, when Dr. Karin Hahn at London Health Sciences Centre's London Regional Cancer Program (LRCP) presented Bonita's x-rays, both patient and physician reviewed them together as a team, giving Bonita the hands-on approach to her care she desired.

"It was almost like an out-of-body experience because I'm looking at the images from a medical perspective and I've removed myself from the fact it's actually me…until I had to tell myself 'That's you you're looking at.'"

Despite this upsetting news, Bonita remained her ever-positive self, encouraging family members, friends, and even a class of eighth graders that: "It's not what happens in life that determines who you are, but it's how you choose to react to it that defines how you live."

Realizing she was dealt a life-limiting diagnosis, Bonita began controlling her symptoms, with the help of Dr. Hahn, so she could focus on spending quality time with her family. Bonita also received support from LRCP's Patient Assistance Program, which helps patients in need manage the costs associated with cancer diagnosis and treatment. Specifically, the program covers expenses that are not publicly funded, including uncovered medications, wigs, mastectomy bras, breast prostheses and transportation.

"When you become ill, money is the last thing you want to have to think about," she says. "I'm just so grateful for that program for the help it provided, and I think more people need to be aware of it, especially in the community."

Bonita has become an ambassador for the Patient Assistance Program, telling anyone and everyone she knows what a difference it has made, both to her and to many others.

"I look at the sea of people in the waiting rooms when I go for my appointments, and my heart goes out to them because I know what they're going through. Many are much less fortunate financially than I am, but if I can help them out in some small way, then hopefully it will shed a little bit of sunshine in their lives and take that extra burden off their shoulders."

As she progresses in her illness, Bonita continues to champion for this cause near and dear to her heart.

"If I didn't have cancer, I wouldn't have had the opportunities I had or met the people I have. By sharing my story, I'm trying to give people hope, inspiration and also, hopefully, motivation to give back."