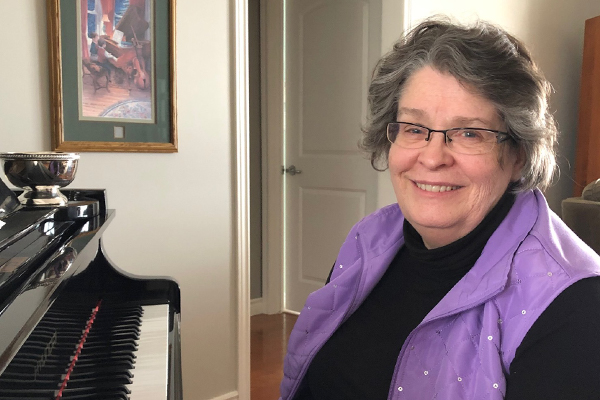 Brenda Thorne is a loving mother, wife, and grandmother. In 2015, Brenda almost lost her life to multiple organ failure. Thanks to the incredible doctors and staff at London Health Sciences Centre (LHSC) she survived and is back where she belongs – with her family.

For years Brenda had experienced significant fatigue, but she attributed it to her busy lifestyle – teaching, being an organist, as well as the demands that come with motherhood. In 2012, Brenda had developed digestive issues, and with her continued fatigue Brenda decided to seek medical advice. Through testing in 2014 Brenda learned that she had been infected with hepatitis C almost four decades earlier, after receiving a blood transfusion which resulted in liver damage. In 2015, following continued symptoms, Brenda was admitted to LHSC with a severely damaged liver and hepatitis C. It was decided that Brenda needed a liver transplant. Fortunately, LHSC's Dr. Paul Marotta was able to obtain a new medication to treat Brenda's hepatitis C. Two weeks prior to completing her treatment, Brenda began feeling incredibly ill and ended up in the ICU. Despite the success of eliminating hepatitis C, Brenda was going into multi-organ failure and spent weeks in coma. She required a liver transplant to stay alive.
On August 19th, 2015 Brenda received the precious gift of a new liver. Her recovery was long, but Brenda is grateful for the wonderful treatment she received from the doctors, nurses, and staff during her stay,
"Without LHSC I would not be here today. When in the ICU the doctors didn't believe I would make it. I remember the day when my transplant coordinator came to me and shared that they have a liver for me. I feel so grateful to LHSC."
In deep gratitude, Brenda and her family began to donate to LHSC and also decided to leave a bequest through their Will to ensure our hospital can continue saving lives for generations to come.

FOR MORE INFORMATION:
Kathy Papineau-Thornhill at the Foundation, at 519-685-8785