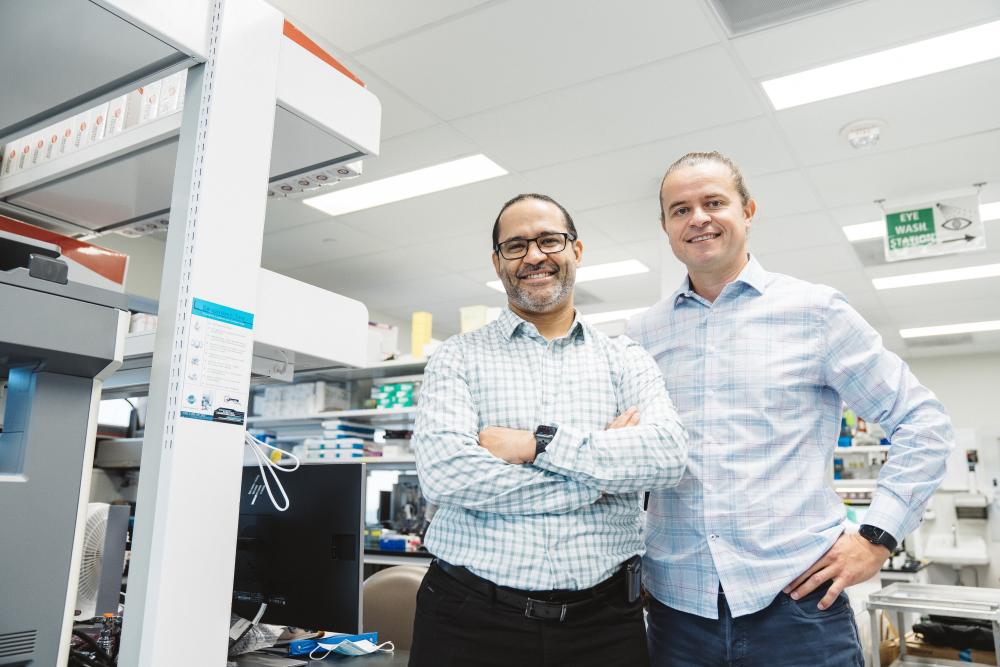 There are six billion letters in the human genome, each one coded for a particular message within our DNA. Beginning as a global endeavour mere decades ago, it took 20 labs, seven countries and an estimated one billion dollars to sequence the first human genome. Now, with today's technological advancements along with our increasing ability to understand connections between changes in the genome and human disease, the Verspeeten Clinical Genome Centre (VCGC) at London Health Sciences Centre (LHSC) is breaking barriers to allow for a more seamless integration between research and the clinical application of genetic sequencing.
The first centre of its kind in Canada, VCGC was born from the serendipitous coming together of concept and capacity. Quiet philanthropist, Archie Verspeeten, founder of Ingersoll-based Verspeeten Cartage, was looking for more ways to help wipe out cancer. Thought leaders at LHSC were exploring ways of establishing a genome research centre. Each represented the means to the other's end.
"There was a common need to not only provide better access to care for local patients suffering from cancer, but to synchronize the efforts of oncology, pathology, diagnostics and genetics to achieve this," says Dr. Bekim Sadikovic, VCGC's scientific clinical director.
Through the establishment of the VCGC, the scope of genomics in London, Ontario grew, and with it, the branching possibilities that come with progress. Boasting a translational research model, VCGC embodies a vision of streamlined, coordinated and integrated innovation between clinical and research groups.
"Translational research accelerates the application of new discoveries and new areas of testing into routine clinical standards of care," explains chief laboratory officer at LHSC, Dr. Mike Kadour. "It's the difference between waiting three to five years for translating research versus same-year translation in this more collaborative approach."
A key innovation enabled by the VCGC is the implementation of precision medicine—treatment or therapy tailored to the individual down to the molecular level—which helps inform in-the-moment care decisions. It's practical.
"Patients really value information coming back that can help them," says Dr. Stephen Welch, medical oncologist and chair of the division of oncology at LHSC. "While receiving treatment, they are actively contributing to the research responsible for informing their care."
And while it may not quite be real-time, it's pretty close. Dr. Glenn Bauman, scientific director for VCGC, says information gleaned here allows physicians to get ahead of the curve and start exploring molecular markers pertinent to the needs of individual patients. However, with the future being so dependent on the present, sights aren't only set on the here and now.
"Discoveries may reveal new information for us to use down the road," Dr. Bauman says. "This centre allows us to be nimble and forward-looking."
Indeed, VCGC represents a unique learning opportunity. Jenn Masters, LHSC's director of molecular diagnostics, says as a budding researcher she would have jumped at the chance to be involved in such cutting-edge investigations.
"VCGC is a space for us to grow and develop the next level of thinkers," she says. "It changes the scope of everything: how you think, how you approach problems and how you solve them."
Already, the team is starting to look beyond the genome to the epigenome. Regarded as the new frontier in molecular diagnostics, epigenetics refers to chemical signatures and modifications of the genome itself that play crucial roles in the function of the genome both in health and disease.
"VCGC was the first centre in the world to develop epigenomic profiles for common hereditary disorders," Dr. Sadikovic says proudly. "By establishing an international network of collaborators as well as advanced methods of interpreting the data, we've become a leader in epigenomic testing."
With learning and innovation being key drivers behind VCGC, scientists here are now in the process of developing epigenomic technologies to diagnose different types of cancer. These tools will come to constitute more world-firsts for the centre. But to maintain this momentum, the team says investing in personnel is high priority. In fact, as the reputation for its world class research grows, VCGC has quickly become a magnet for the change-makers of tomorrow.
As for the patients themselves, who are living in the face of such stark odds characteristic of their illness, new research means new possibilities. And if even just one of those possibilities can extend or improve their quality of life, it will have been worth it. It's the opportunity to get better, to overturn another stone along the path to wellness. It's seeing light despite the darkness. Because after all, that's what VCGC is: it's hope.