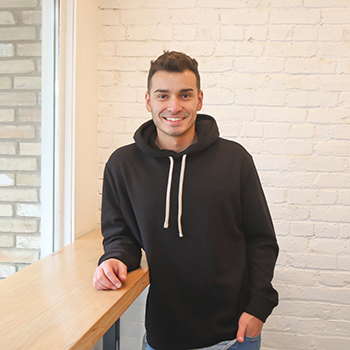 In October of 2017, Cristian Castro was diagnosed with a type of blood cancer called Hodgkin's Lymphoma. This particular cancer begins in the white blood cells of the lymphatic system and can spread anywhere in the body.

Cristian's diagnosis came with an 80% chance of survival.

At the time of his diagnosis, Cristian was only 29 years old with a full life ahead of him. Because he was young and lead a healthy, active lifestyle, this life-changing news came as a shock to both him and his family. Although devastated and afraid of the diagnosis, Cristian's family remained hopeful and supportive knowing Cristian would need them by his side.
Cristian was not only grateful for the support of his family but also for the care of the hospital and its staff. He remembers being greeted with open arms every time he arrived for his cancer treatments.
Cristian expresses his gratitude for his experience at London Health Sciences Centre through his heartfelt testimonial:
"Luckily I had more than my family and friends to count on. I had the endless help and support of the London Regional Cancer Program (LRCP)and the staff at London Health Science Centre.

After being given this diagnosis, I felt extremely lucky and blessed to be able to count on their great support. The staff always gave me a sense of hope and helped me feel comfortable in a very nerve racking and unknown situation. Words cannot express how thankful I am to have been treated by such caring and empathetic people that became more than just health professionals to me.

Here I was treated as more than a patient; I was treated as a person first. This holistic care empowered me to have faith in my healing process and brought hope and reassurance to my family as well.

I am forever grateful for the staff at LHSC and their continuous love and work, not only for me and my journey but for all the others who are suffering from cancer as well. They have impacted my life significantly and I will never forget them."

On March 30th 2019, Cristian will be participating in the 1st Annual Blood Sweat & Spin event in support of blood cancer initiatives at London Regional Cancer Program. He encourages everyone to get involved and help raise much needed funds for those affected by blood cancer.
To register for this event, or learn more about how you can make a difference,
visit lhsf.ca/bloodsweatspin.