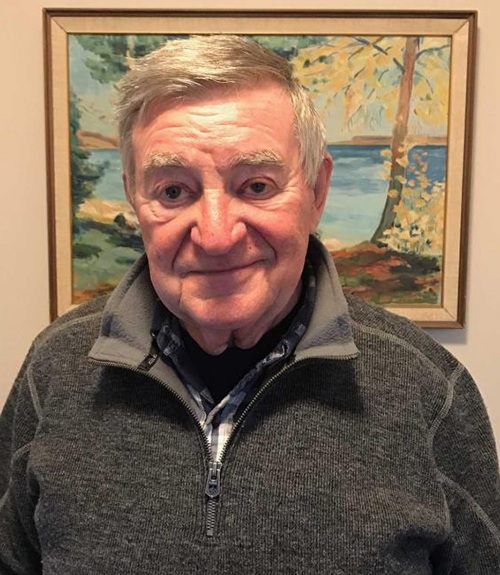 Five years ago, Don Brough's medical journey took a dramatic turn. After undergoing a routine check for prostate cancer based on his family's history, Don's results came back indicating he had also developed the disease. Immediately, his physician in Owen Sound referred him to London Health Sciences Centre (LHSC) for evaluation and treatment.

"I was amazed at how quickly my situation was addressed by everyone in our regional health care system," Don says. "These people are very caring and professional individuals. I could not have been treated better."
"I just think research is really, really critical. Since technology is always changing, our local hospitals need to continuously adapt by upgrading their equipment."
Dr. Glenn Bauman, a radiation oncologist at the London Regional Cancer Program (LRCP), met with Don to discuss options. He could undergo the standard regimen of radiation and hormones, or he could participate in a research study where he'd receive a higher dose of radiation treatment and a shorter course of hormone treatment. As a firm supporter of clinical research and its role in the advancement of medical sciences, Don opted to participate in the study.
"Research such as this can lead to more effective treatments and more efficient use of our healthcare resources," Don explains of his choice to participate. "The study related to prostate cancer, but the results of the study could lead to alternative treatments for other forms of cancer with enhanced patient outcomes."
And sure enough, it worked. After finishing his course of treatment in June 2016, his level of prostate specific antigens (PSAs) had dropped significantly. As a participant of the study, Don's condition continued to be regularly monitored, and for a time his PSA levels remained low. But in November 2020, the numbers spiked, and Dr. Bauman's team determined the cancer had returned.
Don was presented with yet another batch of treatment options: continue monitoring PSA levels, attack the cancer with hormone medication, or try something called High Intensity Focused Ultrasound (HIFU). With LHSC being one of only a few centres in Canada to offer this new treatment, Don again decided to do it for science. He chose HIFU.
"I just think research is really, really critical," Don declares. "Since technology is always changing, our local hospitals need to continuously adapt by upgrading their equipment."
"My treatment was a regional effort. Everybody has been bang, bang, bang—right on the mark!"
An experimental procedure, HIFU uses a probe to deliver a beam of high-intensity focused ultrasound to heat and destroy the area of the prostate gland affected by cancer. To further explain and ultimately perform this procedure, Don was referred to Dr. Joseph Chin, surgical oncologist at LHSC.
With his procedure being a little over two months ago at the time this article was written, Don says it went well and that he's feeling fine. "I've been comfortable ever since I was diagnosed because the medical professionals move so quickly. And my treatment was a regional effort. Everybody has been bang, bang, bang—right on the mark," he says enthusiastically.
For Don Brough, participating in prostate cancer research gives him hope and allows him to contribute to something he believes in wholeheartedly: the role medical innovation plays in bettering people's lives. "I know with Dr. Bauman, Dr. Chin, and the rest of the LHSC medical team, I couldn't be in better hands."
Donors play a crucial part in the discovery of new and effective cancer treatments by helping fund important research initiatives. Anything's possible when you choose to care.