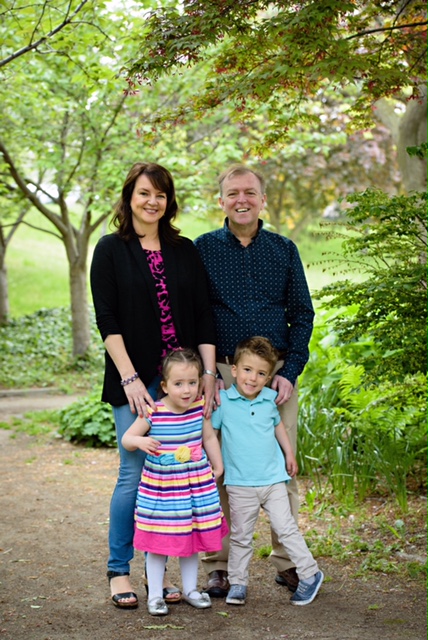 World-renowned physician-scientist donates $500,000 to support targeted lung cancer therapy research
During his 20-year career at London Health Sciences Centre (LHSC), Dr. Marcelo Kremenchutzky has become one of Canada's leading experts in multiple sclerosis (MS). As Chapman Chair in Clinical MS Research at LHSC, Dr. Kremenchutzky has served thousands of patients and their families, trained countless physicians and researchers, and conducted research that is respected the world over – but now, he is also relying on the care of one of his colleagues at LHSC to be able to continue his work.
Despite being a lifetime non-smoker with no family history of cancer and no symptoms worse than a nagging cough, Dr. Kremenchutzky was diagnosed with non-small cell lung cancer in 2015. Since LHSC is an acute care teaching hospital caring for the most medically complex and critically ill patients in the region, Dr. Kremenchutzky didn't have to look too far to find someone to treat him and allow him to continue helping his patients.
Dr. Kremenchutzky was referred to Dr. Mark Vincent, a medical oncologist at LHSC's London Regional Cancer Program who specializes in rare tumours. Dr. Vincent started targeted therapy in an effort to give Dr. Kremenchutzky a treatment that blocks the growth and spread of cancer while offering the best quality of life possible. While traditional therapies like chemotherapy affect all cells and often have more severe side effects, targeted therapy drugs for aggressive cancers like Dr. Kremenchutzky's specifically target cells that help cancer grow.
With treatment from Dr. Vincent, Dr. Kremenchutzky's tumour shrunk from 5 cm to virtually invisible, with none of the changes to his outward appearance most people have come to expect from patients dealing with cancer. It is only because he wants to help raise awareness of lung cancers in non-smokers – and support the work of Dr. Vincent – that Dr. Kremenchutzky is sharing his story broadly.
"No one knew what I was going through if I didn't tell them," Dr. Kremenchutzky says. "I never stopped working. Instead of going on a planned vacation, I went through tests and biopsies. My immediate reaction was, 'Ok, this is what I have. Let's start the treatment now!' and then I went back to work."
Thanks to his targeted therapy, Dr. Kremenchutzky was not only able to get back to serving patients and families with MS in his clinic at LHSC, he was also able to get back to as normal a life as possible with his wife Danine and his then two-year-old twins – though his cancer certainly gave him a new perspective.
"Having cancer helped me rethink my priorities and focus on what's important in life," Dr. Kremenchutzky says. "Targeted treatment has allowed me to stay involved in all aspects of my life… I can be the father, be the doctor, be the researcher I've always been, but I'm also a patient now for the first time in my life."
It is through his experiences as both a patient and as a physician and scientist that Dr. Kremenchutzky decided to give back and support the ongoing research of Dr. Vincent, in an effort to not only raise awareness and remove stigma regarding lung cancer in non-smokers but also to help improve patient outcomes.
"I dedicated my career to bringing positive change to the lives of people with a chronic disease, multiple sclerosis, with no known cause and no cure. When I started my career, there were no known treatments at all – and now we do have treatments. We transformed MS into a treatable disease and I see the parallels with my diagnosis," Dr. Kremenchutzky says. "Lung cancer has been long thought to be incurable or untreatable but Dr. Vincent is working to change that."
In an effort to help future generations of patients facing lung cancer, raise awareness about cancer in non-smokers, and to inspire their own children to be philanthropic, Dr. Kremenchutzky and his wife Danine are making a gift of $500,000 to support the next phase of Dr. Vincent's targeted lung cancer therapy research.
"I embrace the idea of helping others in any way you can and teaching our children to be generous regardless of what they have and to always share and help others. With this gift, we are hoping to help science produce more miracles and to leave a legacy for the next generation of patients and their families so they too can have more time and better quality of life together," Dr. Kremenchutzky says.