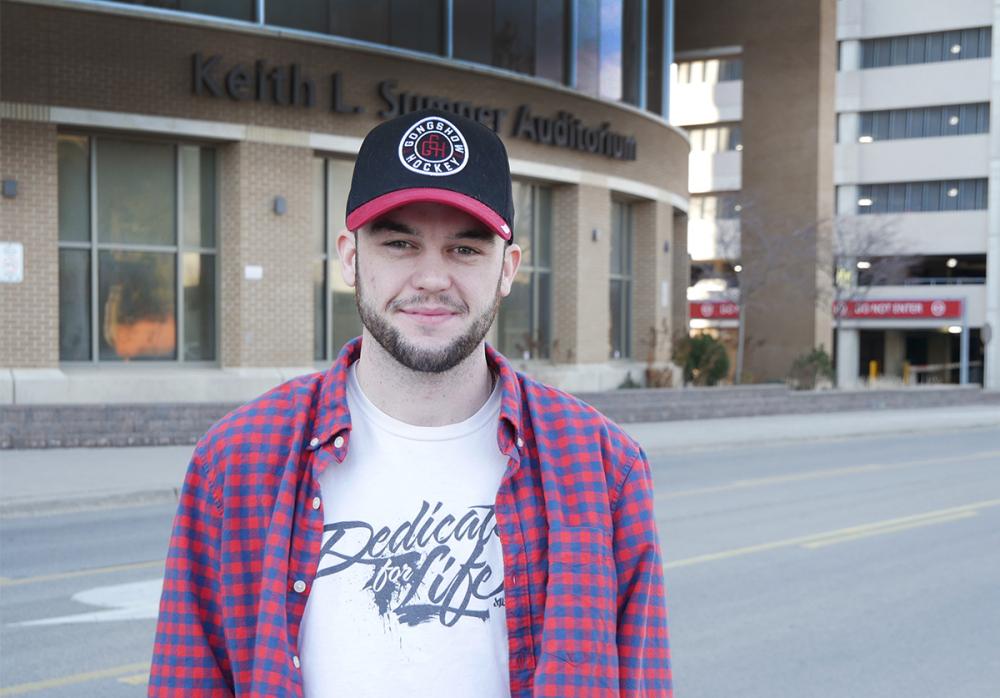 For most, the teens early twenties are a time of discovery. A time where you try to figure out who you are and where you want to go with the rest of your life. But for Dylan Fournier, a St. Mary's native, those years were hijacked by cancer.

Now, with the help of Access Cancer Therapies (ACT) Now and Dr. Stephen Welch of LHSC, Dylan's life is no longer dictated by cancer.
In 2012, during his freshman year of high school, Dylan was diagnosed with colitis. The symptoms became so severe that he missed a lot of school and it interfered with his ability to participate in his first love, hockey.

By November of 2017, his symptoms worsened. Following extreme unexplained weight loss, Dylan was diagnosed with a rare type of colon cancer. He was 20 years old. "It was scary," Dylan says. "When they found the tumour, it kind of hits you like a wall. No one really thinks they're going to get cancer."

Quickly following the diagnosis, he underwent surgery and started extensive chemotherapy. Even with the treatment and surgery, he was told he had a 5 per cent chance of living to 25.

In 2019, the chemo stopped working. By then, Dylan was living with severe pain and barely sleeping or eating. He was unable to go to work or school and was down to 116 pounds. But Dylan refused to give in.
"You can be negative Nelly or you can be positive Sam, right? I chose the latter because if you're negative, I feel like worse things could happen. If you're positive, you have a better outlook, you're going to see better results," he explains.
This was when he entered Dr. Welch's care at LHSC. Dr. Welch approached Dylan's diagnosis with much the same attitude as Dylan's. Dylan recalls joking with Dr. Welch, saying that he'd be happy if he made it to 50 years old. Dr. Welch responded with "Why push it to only there?... We'll make it past that."

This positive approach supported Dylan's push to keep fighting. "That's the kind of attitude you want from a doctor, right? If he believes that you're going to beat it, then you have no doubt that you're going to beat it, "Dylan said.

Dr. Welch placed Dylan on Keytruda, an immunotherapy drug designed to help the patient's immune system attack cancer, that is not yet covered by OHIP to treat rare cancers like Dylan's.

So far, the new therapy has shrunk the tumours, helping to push back the cancer and improving Dylan's overall health without concerning side effects. "I can eat, I get up and do my normal activities, I go out skating with my friends all the time, I go to the gym like a normal person would," Dylan says. It's completely changed how he's able to live his life.

Keytruda can cost up to $8,800 every three weeks. But, thanks to the ACT Now Fund, Dylan hasn't been forced to carry that burden alone. The ACT Now Fund was started in 2011 by Dr. Kylea Potvin, a Medical Oncologist at LHSC's Regional Cancer Program, to cover cancer treatments not covered by OHIP.

Dylan is profoundly grateful for this help, calling the fund a lifesaver. "The ACT Now fund has really helped out because, without this, I wouldn't be where I am today," he says.

Dylan looks forward to a promising future, hoping to inspire others to help people like him. He's contemplating public speaking so he can illustrate the path that he and so many others have had to walk while fighting cancer. He hopes that his story will help other patients find funding and have access to treatments that can save their lives.

"You want to live past it, get past it, think past it. I think getting cancer has taught me a lot about myself. It has shown me how strong I am as an individual."