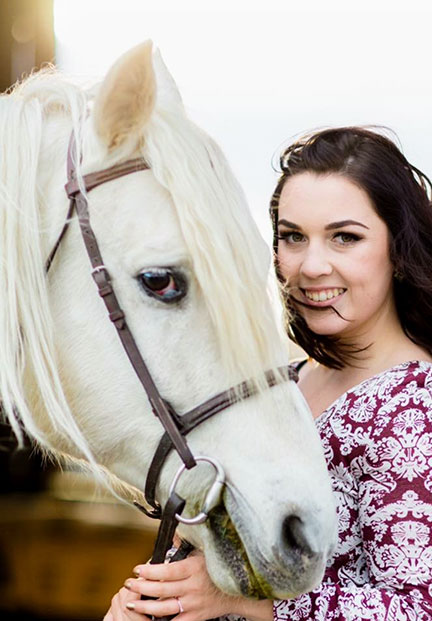 Emma Holden is a spirited 21-year-old with a big heart. She loves being close to her family, her pets and her friends. So when a friend of Emma's passed away from suicide four years ago, it was a devastating loss for her. This tragic event opened up many questions for Emma and lead her to learn more about her own struggles with mental health.

Emma struggles with Borderline Personality Disorder (BPD) and is very open about her diagnosis. Her hope is to educate others and reduce the stigma surrounding mental illness.

"I am definitely a huge advocate for mental health," she says. "We hear a lot about anxiety and depression in the media now – which is great! But it seems as though all the other mental health disorders are still very stigmatized."
BPD is a mental illness that often comes with erratic emotions and behaviours that can lead to unstable relationships with others. Those with BPD often experience mood swings and skewed perceptions. During stressful situations, someone with BPD could feel depressed, anxious or euphoric almost instantly.
Emma is all too familiar with these symptoms and has struggled with feelings of depression, self-harm and suicidal thoughts. At one point, these feelings became so overwhelming that she attempted to take her own life. It was then that those closest to Emma pleaded with her to seek help.
After an initial visit to the emergency room at London Health Sciences Centre (LHSC), Emma began her journey to recovery through the Dialectical Behaviour Therapy (DBT). This specific type of therapy is a 6-12 month program at LHSC that allows clients to benefit from both group therapy and one-on-one counseling. "I'm so excited to talk about DBT," Emma says. There are so many people who don't know about it; but it's actually a form of therapy that experts are now saying is really beneficial to people with personality disorders."
Although Emma graduated from the group program this past summer, she still benefits from one-on-one counseling, "My therapist from the DBT program is a saint," Emma gushes. "She has been the biggest part of why my hospital experience has been so positive. She is my hero."
Emma had never volunteered before; but after going through DBT she felt inspired to get involved. In the spring of 2018, Emma decided to host a charity event in support of mental health programs at LHSC, called Mentally Chill. "I wanted to bring people together so they could feel comfortable and be in an environment where we could talk about mental health openly," she explains.
The event included a line-up of live musicians, poets and mental health speakers and raised over $1,500! Emma believes this is the first of many to come, and can't wait to host another Mentally Chill event in 2019.
Today, Emma feels proud of everything she has accomplished and is taking life day by day.
"I'm learning to accept that this is my life and that I might end up in the hospital again, or I might need to go through DBT again, but I'm just learning to be chill about it. Healing is not linear," she says. "At this point, life is good."