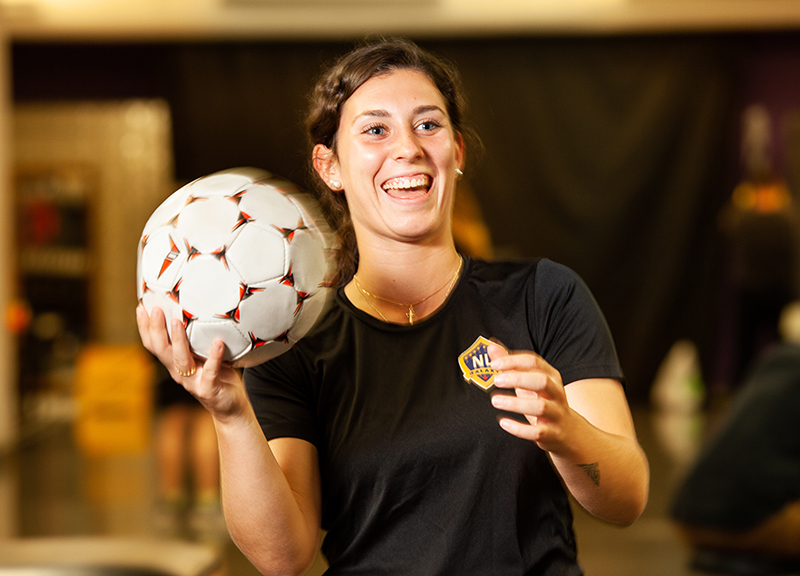 When a knee injury almost ended Tiffany's varsity soccer career, the team at Fowler Kennedy Sport Medicine Clinic (FKSMC) created a care plan to get her back to where she belongs. 

Before she came to London for university, Tiffany tore her anterior cruciate ligament (ACL) – one of the key ligaments that help stabilize the knee joint – and received reconstruction surgery in Toronto. But Tiffany was still in pain while playing for Western University's varsity soccer team.

"I had recovered from my first surgery already, but my range of motion was awful," Tiffany says. The team doctor recommended she have it looked at by Dr. Kevin Willits, an orthopaedic surgeon at LHSC. He discovered Tiffany had a torn meniscus (cartilage between the thighbone and shinbone) and performed a scope surgery to repair it and remove the inflamed tissue. 

Following the procedure, Tiffany was happy she chose to go to FKSMC. She says, "It wasn't very long before I was back on my feet."

Tiffany's physiotherapy was personalized towards her specific sport. "They had me doing a lot of agility, and some sprinting and strength training as well," Tiffany says. "A lot of my exercises were focused on stabilizing my knee." 
Each of her physiotherapy sessions ends with a machine called Game Ready, which played a big role in Tiffany's quick recovery. Game Ready is a donor-funded piece of equipment that is a part of nearly every FKSMC patient's recovery plan. Game Ready is a cooling and compression system proven to decrease pain, muscle spasms and swelling, while improving physical therapy and reducing the need for pain medication. It can be used on legs, arms, ankles, and shoulders.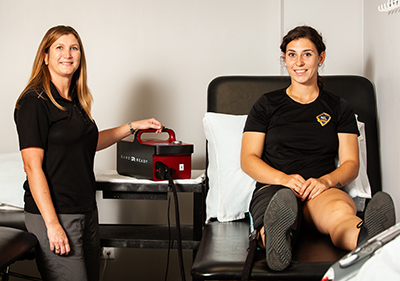 Tiffany is so grateful for the care she continues to receive at FKSMC.
"After having complications after ACL reconstruction surgery, I wasn't sure I was ever going to be able to play again," she says. "With the help of extensive health care practitioners including sport medicine doctors, surgeons and physiotherapists, Fowler has allowed 
me to get back into the game."
FKSMC focuses on returning people to their active lives through diagnosis, treatment and rehabilitation and is dedicated to educating patients on how to prevent injury and stay healthy. Donors play a vital role in funding state-of-the art technology and equipment, education and research, and enhanced patient care.