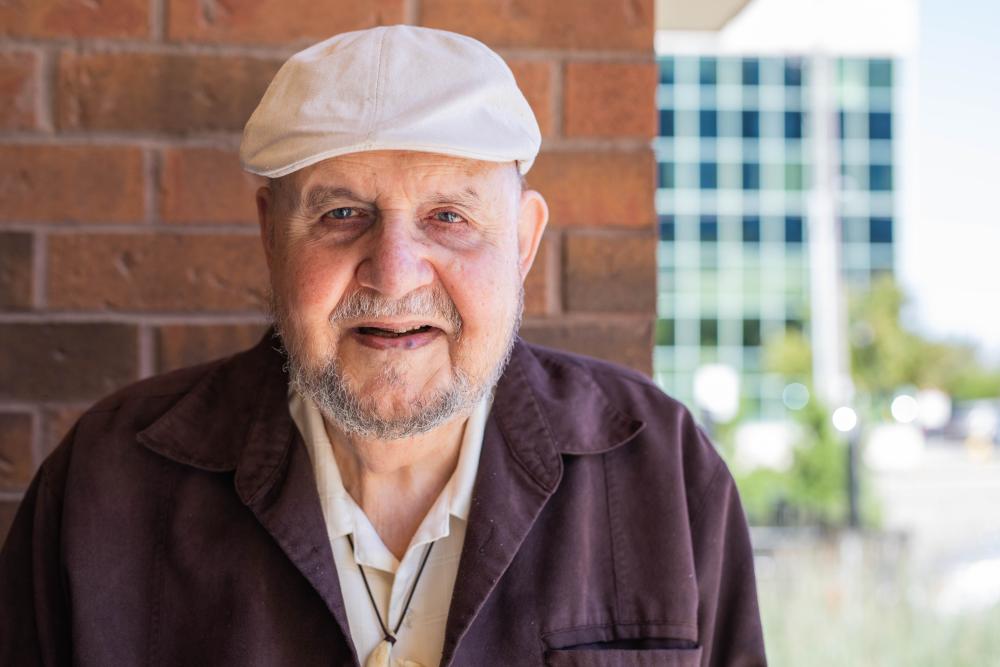 Our lives can change in an instant. Each day, we're confronted with moments that shape our journeys for better or worse, but navigating these ups and downs is often easier when there are people around us who we can rely upon for support.
For Bob Riseling, one such moment came earlier this year after a serious car crash left him with severe injuries and needing urgent care. Though undoubtedly frightening, the extraordinary orthopaedic team at London Health Sciences Centre (LHSC) jumped into high gear to quickly get Bob back on the road to recovery.
"I feel lucky to have escaped in one piece," shares Bob. "After being told I could be paralyzed, I'm now up and moving around thanks to the expert care of the doctors and nurses at LHSC. I'm grateful to live in a community where we can confidently rely on our healthcare heroes during life's toughest challenges."
On top of his being a doting husband, father, grandfather and great-grandfather, Bob is an avid hiker and canoeist, an amateur artist and has enjoyed a celebrated career playing and teaching music. Indeed, he has plenty to be proud of throughout his 84 years. But everything was temporarily derailed when his car was struck violently from behind while he was stopped at a traffic light.
"It was a blur. The pain was instant, and I struggled to focus as it spread across my back. Cars were streaming past me. The driver of the other vehicle asked me if I wanted him to call an ambulance. I said no, and after exchanging information, he drove me home."
Bob was left shaken and uncomfortable, but initially believed he only had some minor bruising. Feeling cautious and heeding the advice of others, he ultimately decided to visit urgent care.
After two visits and several tests, it soon became clear the accident had fractured a portion of Bob's spine and would require an emergency spinal fusion to correct the damage. His case was referred the orthopaedic team at LHSC led by Dr. Supriya Singh, who immediately sprang into action, placing rods along the fracture to help it heal properly.
"There was pain in the early days following the operation, but with weekly physiotherapy and a whole army of nurses who provided me with incredible care the entire time, I'm slowly but surely on the mend. I'm so thankful for everything they've done."
Today, Bob's prognosis is bright as ever as he looks forward to getting firmly back on his feet and spending his reclaimed time with his family–a privilege he credits to the team at LHSC.
"My recovery has been tremendous for a guy who was told he was only a whisper away from paralysis. My quality of life has returned, so I can get back to watching my grandchildren and great-grandchildren grow up. That's a gift I can never truly repay."