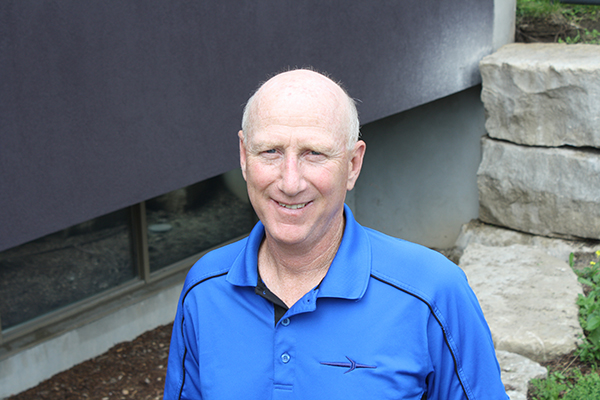 Olympic rower. Entrepreneur. Husband. Father. Now, add "cowboy" to Gord Henry's resume, a term affectionately coined by London Health Sciences Centre (LHSC) physician Dr. Ian Chin-Yee.



Gord's journey with LHSC began in February of 2013. He drove himself to the emergency room one night after pain and illness made sleeping impossible. The staff took x-rays of his chest, revealing three sources of Gord's pain: pneumonia, a partially collapsed lung and, most shockingly, a tumour the size of a tennis ball. They quickly treated the pneumonia and repaired his lung, and scheduled a biopsy to determine how to best treat the tumour. 
Following the biopsy, Gord had a frank but positive discussion with Dr. Chin-Yee at LHSC's London Regional Cancer Program (LRCP) about his diagnosis and treatment. 
"He asked me when I wanted to start chemotherapy and I said 'How about today?'" recalls Gord. "Dr. Chin-Yee laughed and said, 'You're a real cowboy.'"
It was only natural for Gord to approach his cancer treatment as he would an Olympic event. 
"Mentally, I wanted to be ready for this like I was for a competition," says Gord. "I was prepared to compete. And the competition, in this case, was chemotherapy."
After overcoming the greatest hurdle—telling his wife Linda and their three sons about his illness—Gord began chemotherapy. 
"I was always treated really well at the LRCP," he says. "It's a big place and it's busy, but you don't sweat it because you know everybody in the waiting room has cancer, and the staff is doing amazing work to help these people."

Gord remained fit and healthy throughout his chemotherapy and subsequent radiation. Though he didn't have the energy to row, he jokes that he continued to sweat just as much as he would when rowing—a symptom of the chemotherapy. After his treatments, which lasted a total of eight months, Gord's scans showed no visible signs of cancer. By the two-year mark, Gord was told he no longer had to come in for follow-up appointments, so successful was his treatment.  

"That was such a good feeling," says Gord. "Now, I'm nearly three years removed from treatment and I'm grateful they still don't want to see me."
Having lost loved ones to cancer, Gord is well aware of the realities of the disease. He says his physical and mental preparation helped him persevere through the treatment, but he knows it wasn't what saved him. 

"I didn't beat cancer because I was fit and healthy," he says.  "I beat it because the doctors and staff found it early before it spread and I got great treatment quickly."
Gord considers himself one of the lucky ones, and hopes others who are grappling with a cancer diagnosis can receive the same great care he did. It's why he gives back to LRCP, recently pledging $10,000. 
"The outcomes from cancer are one of the few things in life that are getting better," he says. "So I know I can look back in five or 10 years from now and see how my money helped."

Gord can be found these days doing what he loves most: managing his revolutionary boat-building company, Fluidesign, which he started in London nearly 20 years ago after a long and celebrated career in professional rowing. But he will always have a soft spot—with the scar to prove it—for the care he received. 
"It's an amazing place, that cancer centre. People who live in London don't know how lucky they are. If you want to get involved and support it, I can guarantee you're going to feel good about what you're doing."
-- Gord Henry
Now that it is all said and done, Gord can add two important roles to his illustrious resume: "cancer survivor" and "philanthropist."