The saying 'you don't know what you have until it's gone' could not be more true for Gord Williamson.
After doctors in Sarnia discovered he had throat cancer, Gord underwent 65 bouts of radiation and more than seven surgeries to save his life. Unfortunately, it left him without a voice. Today, thanks to the Head and Neck Cancer team at London Health Sciences Centre (LHSC), Gord is talking with the help of a voice prosthesis – and he's got much more to say.
As a young adult, Gord moved from his hometown of Brampton to Sarnia to pursue post-secondary education. After meeting the love of his life, Jane, and then graduating, Gord landed a job as a processing operator at Polysar, a rubber manufacturing company in the heart of Sarnia's chemical valley. He worked there for 37 years until his retirement at the age of 56.
"Working in the chemical valley, you're exposed to a lot of chemicals and heavy-duty noises. I was also a smoker and drank alcohol. I'd get ringing in my ears and every once in a while I was getting chest infections. Eventually, I got laryngitis that wouldn't go away," Gord reminisces.
In 2012, Gord visited to his family doctor who referred him to Dr. Brian Hynes, an ear, nose and throat physician in Sarnia. Dr. Hynes performed a routine scope and found a small bump on Gord's vocal cord. A biopsy was conducted and later confirmed as cancerous.
Gord's care was then transferred to Dr. Kevin Fung, Chair Chief, Otolaryngology, and Dr. Nancy Read, Radiation Oncologist, at LHSC. Over the next three years, Gord's cancer spread. He underwent a considerable amount of radiation and chemotherapy as well as multiple surgeries that included vocal cord scraping, a neck dissection and the removal of his larynx and lymph nodes.  
"I was lucky," said Gord. "By them staying on top of things, I got it taken care of and the treatments were really good."
Once the cancer was treated, Dr. Fung conducted a surgery which used parts of Gord's left wrist to rebuild his throat. After five weeks on a feeding tube and over six months of not being able to speak due to an additional neck puncture surgery, Gord was ready for the next step – a voice prosthesis that would allow him to communicate.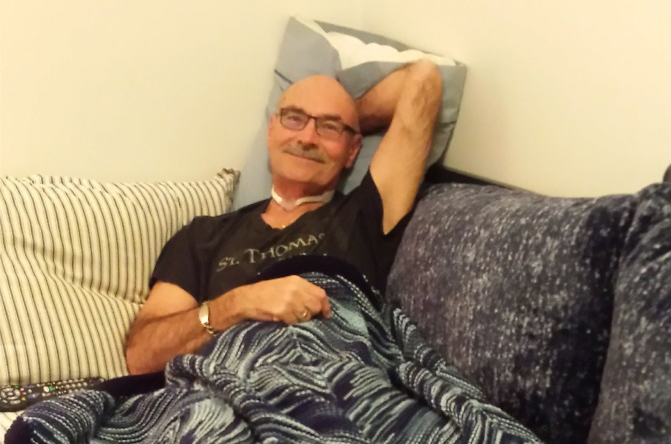 "My daughter, after I phoned and talked to her for the first time after the surgery, she put on Facebook 'my dad just called me and said I love you in his new voice'," said Gord tearfully.
With a new voice and positive outlook, Gord believes it's time to start talking. He wants to bring awareness about treatment options to those with head and neck cancer, and inform the community about the need for donations to help fund more life-saving research projects.
"Every time I go for an appointment to Dr. Fung's office, my wife and I go up to the fifth floor to see if there's anybody that's gone through a neck dissection or a tracheotomy," said Gord. "We talk to them to reassure them this is all temporary, you'll be able to start anew. You don't have to be scared."
Today, at the age of 65, Gord continues to live an active, healthy life and credits his positive attitude, family support and the great care at LHSC for his recovery. He has since partaken in the Head & Neck Above Cancer walk to raise money for research, interviewed with a London news station about his cancer journey, and has participated in a Q&A session for medical students at Western University with Dr. Fung which was also broadcasted to students at the University of Windsor.
"This is just plan B," said Gord. "You become more grateful for the things you do instead of the things you plan to do."