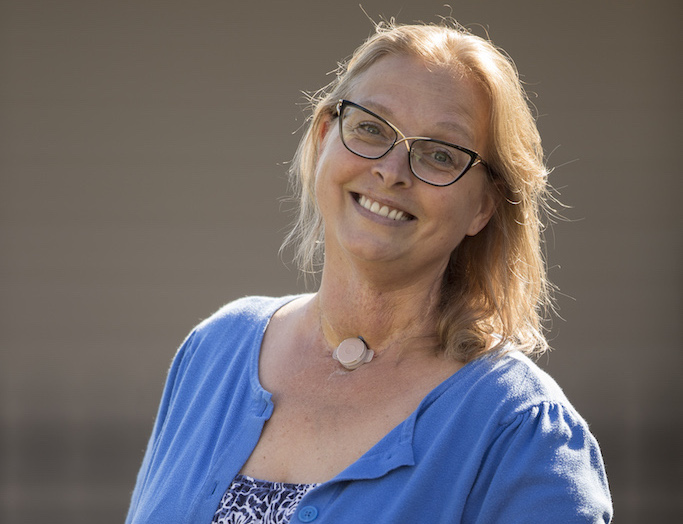 Kathy Poirier learned very quickly that there are people in life who will catch you when you fall. One moment she was living her normal life in Dresden, Ontario, working and spending time with her family; the next, at age 43, she was diagnosed with a rare form of head and neck cancer called adenoid cystic carcinoma.
There are treatments to slow the progression of this cancer, but there is no cure.
Love and support came from many different places – from her mom, husband, kids and close friends and from new friends she made online. Kathy was already at stage IV and there was no time to lose. She would need to undergo surgery at LHSC – and in order to remove the tumour, her vocal cords, her thyroid and part of her esophagus would also need to be removed.
"It happened so fast that I was numb," she says. In the back of her mind were thoughts of her dad and the fact that he died of throat cancer. And what would it be like to live without her voice, to not be able to tell her family she loved them as she always had?
Dr. Anthony Nichols knew he had a challenging procedure ahead – and, as he performed Kathy's surgery, he was relieved to learn the cancer hadn't spread as far as originally thought. The surgery, followed by a lengthy course of radiation therapy, not only saved, but also extended Kathy's life.
In addition, doctors at LHSC also helped give Kathy a voice once again, thanks to a sophisticated prosthetic device, which is positioned at the base of her neck. Now, Kathy starts and ends each day with a smile and an "I love you."
It's been several years since her treatment and Kathy lives on, courageously and with lots of faith and love, while knowing that slow-growing cancer (quite common with adenoid cystic carcinoma) is present in her lungs.
At the centre of her life are the family members and friends who've always been there for her. "I think of my family as the people who wrap me with love, who surround me with light and support," she says. "They're the greatest people on the planet. I also know that every minute I have with them is thanks to the incredible work of the team at the London Regional Cancer Program at LHSC".
"Fighting this disease was going to take everything I had – and getting the treatment I needed meant I would lose my voice forever."
-- Kathy Poirier