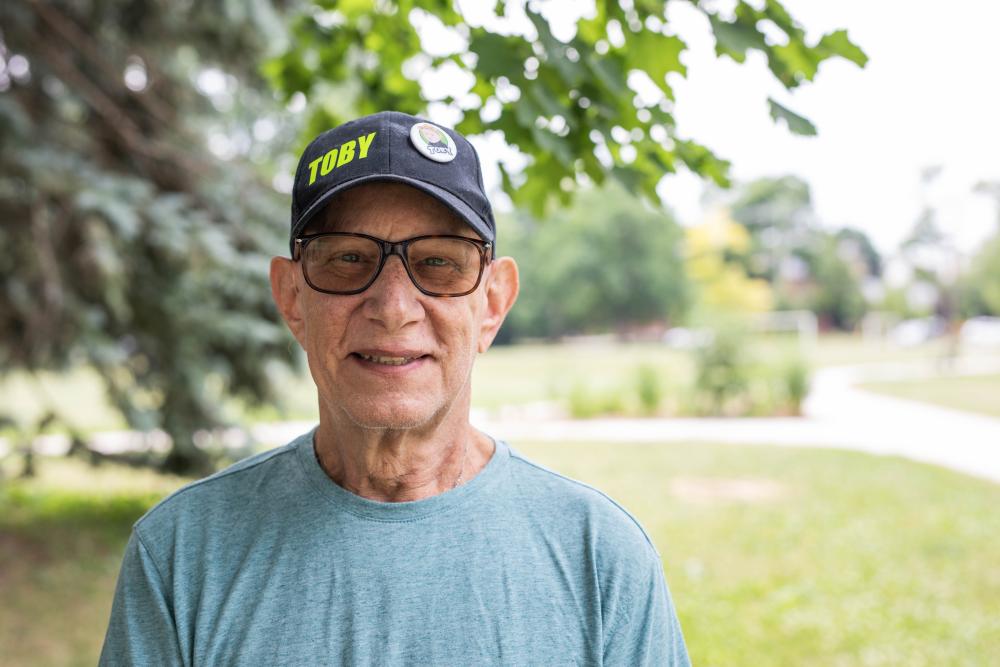 When facing a diagnosis of a severe illness, a myriad of complicated thoughts, emotions and fears can run through a person's mind. How will this affect my loved ones? Where can I find the care I need? Will I be able to make it through this?
For Michael Bloch, who only learned he had pancreatic cancer earlier this year, these questions aren't getting in the way of his perpetual optimism. And thanks to the expert care and utmost compassion he has received at London Health Sciences Centre's (LHSC) Baker Centre for Pancreatic Cancer, he can stay focused on the positive along his road to recovery.
"I'm a glass-half-full kind of person," Michael shares. "Even through some of the darkest times, I've always felt it important to keep hope and lean on those around me. The rest will fall into place."
Following an illustrious 40-year career in health care and organ transplant, Michael was eager to keep busy doing what he loved in retirement and, for the past six years, he's happily enjoyed a job as a framer labourer in Mount Brydges. However, through this work, he would learn of the health challenge he now finds himself up against.
"Woodworking is my passion; it's in my blood," Michael says with a bit of a smirk. "But it's also a very physical job. I initially thought my growing abdominal discomfort and lower back pain were caused by working on my knees so much. But as time passed, I felt something more was going on."
After visiting his doctor and learning his pancreatic enzyme levels were unusually high, Michael underwent a series of tests. Physicians soon discovered a tumour at the head of his pancreas, later determined to be a rare form of advanced pancreatic cancer called carcinosarcoma.
Treatment needed to start immediately, and Michael had already heard great things about the Baker Centre.
"The Centre has helped thousands of people, so their track record alone let me know I could rely on them," Michael says like someone used to doing their research. "It's easy to let fear consume you, especially with pancreatic cancer, which has such a low survival rate. But knowing this team's expertise, I could be certain my care was in excellent hands."
For the next four months, Michael underwent rigorous chemotherapy to treat the cancer, and month after month, tests showed his tumour continued to shrink. Though the medication has not been without its side-effects, Michael has persevered with his signature positivity by drawing particular strength from the memory of his grandson, Toby, who himself bravely battled a rare childhood cancer but who tragically passed away at just four years old.
In the end, as his condition improves, what Michael feels most is gratitude.
"The Baker Centre provides the best possible care you'll ever get. They can detect, treat and offer every measure of support depending on your cancer diagnosis. I'm not out of the woods yet, but I'm closer than ever to recovery and still looking up, thanks to this world-class care."