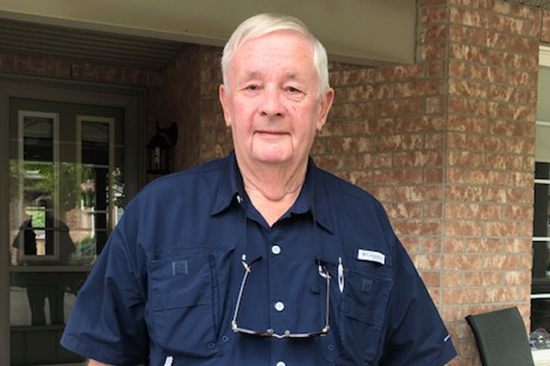 Roy Kirby is all too familiar with the devastation that accompanies the word "cancer." His own journey began in 1998, when his wife, Patty, was diagnosed with non-Hodgkin's lymphoma. After six years of treatment, her disease went into remission, but in early 2016, Roy himself was diagnosed with prostate cancer. His surgery was scheduled later in the year until, one November day, Patty received the crushing news that she had terminal pancreatic cancer. She died six weeks later.
"My world had changed because my wife was gone," says Roy.
Roy's surgery was postponed until July of 2017, followed by radiation therapy thereafter. Though he lived in Burlington his whole life, his daughter now lived in London, so, in 2019, he moved to be closer to family. This brought him to London Health Sciences Centre (LHSC), where he received treatment from oncologist Dr. Glenn Bauman and his team. Despite the circumstances, Roy speaks highly of his experience at LHSC.
"Everyone was fantastic. The staff are so friendly," he says.
He remembers how their thoughtful care made life so much easier for him. From the parking lot attendant who helped him save money on a parking pass, to the binder filled with contact numbers, building information and even where to get a coffee, Roy says it was a well-oiled machine.
Now cancer-free, Roy has plenty of helpful advice for those navigating their own cancer journey. He also swears by keeping a detailed record – his trusty binder of notes and reports helped him take an active role in his treatment and recovery.
"Ask lots of questions and don't just look to google for the answers, because each person's experience is unique," he says.
After reflecting on the care he received, Roy started a book about his journey with cancer, titled "I Never Lost a Sock." He talks of taking over laundry duty when Patty became sick, and the pride he took in never losing a sock. The night Patty died, Roy and his daughter were there. As the nurses checked for oxygen levels, they removed one of Patty's fuzzy socks. He was sure not to leave without collecting the pair. Roy speaks openly about these personal, human moments. He doesn't shy away from sharing the more intimate details or the pain.
He hasn't finished his book yet and isn't sure he will. "It hurt so bad to keep remembering it," he says. "There was a lot of hurt, and still is." But he tries to handle difficulty with humour and positivity, hoping to help others by giving a raw and honest account of his experience.
"The initial impact of a cancer diagnosis is horrendous. But you pull your socks up and get on with it," Roy says, speaking frankly once again.
"If you need counseling, get help. You can't control cancer, but you can learn to manage it."
Roy certainly lives by his own advice. Today, he spends time with his daughter and grandchildren, continues his work in life insurance, dates, golfs and enjoys out-of-town fishing trips. His zest for life is obvious, and his message is one he hopes people take to heart: "Don't let cancer take over your life. You can have a rich, full, enjoyable life beyond cancer if you want it."
Our donors matter deeply. When you choose to care you help countless individuals navigate a cancer diagnosis. Support cancer research today and you can help more people like Roy move forward.