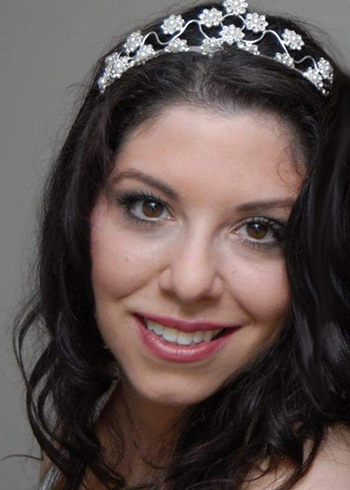 Maria Curcio says she remembers the exact moment she was told she had ovarian cancer. Or rather, she remembers not remembering anything. The world around her went blank. As a healthy 46-year-old with no family history of cancer, Maria had difficulty wrapping her head around the diagnosis. The shock was palpable.

Born and raised in London, Ontario, Maria enjoys a career as a technical writer, breaking down and translating information. And she loves cats. Maria and her partner have cared for almost 20 stray cats over the past 13 years. But even as someone who loves sifting through information, up until five years ago, Maria can't recall ever hearing about ovarian cancer.

"We really need to put ovarian cancer out there more," she says. "The funding isn't there, and nobody knows about it."

One of the biggest challenges with ovarian cancer is that it's elusive—there's currently no accurate test available for early diagnosis. It's usually not until later stages that it's discovered, when the cancer has grown and spread to other areas.

For three frustrating months, Maria was in and out of the ER with various symptoms that baffled doctors, who eventually ordered a CT scan. With those results, she found herself sitting next to her best friend and speaking to Dr. Jacob McGee, a surgical oncologist at London Health Sciences Centre (LHSC).
Dr. McGee removed what he could of the cancer during surgery. A biopsy confirmed her diagnosis of stage 3C ovarian cancer, which came with a stark five-year survival rate of 28%. And just before Christmas 2016, Maria started her first line of chemotherapy treatment.
"You have to surround yourself with good people. I really believe staying positive has helped me get to where I am."
"It's been a hard four years. You have to surround yourself with good people. I really believe staying positive has helped me get to where I am," she says matter-of-factly.
"I was so fortunate to have Dr. McGee as my surgical oncologist, too," Maria thinks back. Today, she is under the care of medical oncologist, Dr. Stephen Welch. "He's a positive, forward-thinking doctor who's very kind and compassionate. He listens to you and doesn't give up." Which is good news for Maria because neither does she. She's a fighter who knows how hard the fight can be.
Despite annual chemotherapy treatments and participating in a clinical drug trial, the cancer has recurred every year. One day, she confided in Dr. Welch, worried they were running out of options. He took out a pen and piece of paper and made two big columns of medical terminology.
"He showed it to me and said, 'These are all the treatments we haven't even tried yet.' He's just wonderful. He never gives you false hope but if it's there he'll help support you the whole way."
And while Maria applauds the care team at LHSC, she hopes ovarian cancer research might get more attention in the future because if caught early enough, survival rates soar. She says more funding is essential to establish reliable testing methods. As it stands, only 20% of ovarian cancers are detected in the initial stages.
"It's not a death sentence. You can still live your life."
Nevertheless, Maria's confident she'll make it past the five-year survival rate. "It's not a death sentence. You can still live your life," she says. As for her, she's staying positive and focusing on the good. That means caring for all her feline friends. Multiple cedar houses arranged outside her home make up what Maria calls a "Cat Hotel," complete with pet-friendly heating pads or straw, depending on preference.
"All cats are welcome," she says. "And it's free of charge."