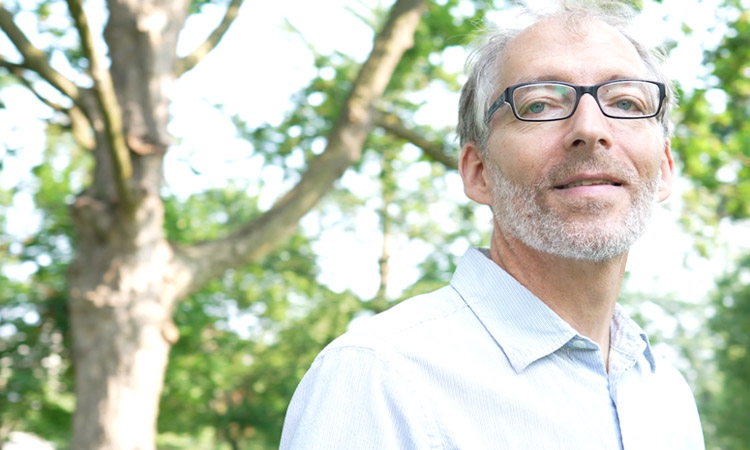 Darren Ross was looking forward to a vacation in Amsterdam he had booked for his 50th birthday. What he didn't expect was the cancer diagnosis he received just days before his trip.

He had no symptoms to warn him – it was a routine physical that brought it to light. Once men reach 50, it's common practice to get bloodwork and a PSA (prostate-specific antigen) test done. Generally speaking, PSA levels below a 4.0 are considered normal. Darren's PSAs came back at 25.
"It didn't really mean anything to me at first," says Darren. "But I quickly found out 25 is a pretty high number."
His doctor referred him to the urology clinic at St. Joseph's Hospital for a biopsy. The test revealed 11 of the 12 samples were cancerous.
"As soon as you hear the word cancer from the doctor, everything sort of stops," says Darren. Luckily, his wife, Jennifer, was with him to take notes.
Within two weeks of the biopsy, he was meeting with specialists at London Health Sciences Centre (LHSC) to discuss his options for radiation or surgery. He opted for a prostatectomy, which was performed by oncologist Dr. Nicholas Power. The surgery was a success.
Regardless of the situation, he describes his experience at LHSC as "smooth."
"Dr. Power's a great guy and has a great team," says Darren. "He's very empathic. I think he treats you the way he would want to be treated as a patient."
Darren says the doctors, nurses and staff were efficient yet caring, and patient with everyone.
"You felt safe and secure," he says. "You felt taken care of."
To recuperate from the surgery, Darren took the advised eight weeks off from work. Rehabilitation included light chair yoga, Kegels and daily walks to improve his core. He also joined a prostate cancer support group, which he highly recommends. He says hearing from other prostate cancer patients as well as a number of guest speakers and experts helped him on his own journey.
"The biggest thing I learned is to talk to other guys and talk to other people," he says. "I just want people to be aware."
It's been two-and-a-half years, but Darren still goes for regular PSA tests and meetings with his doctors to check in. However, a recent appointment showed his PSA numbers creeping back up again, so he's waiting on scan results to determine whether he returns to LHSC for more treatment.
Darren shares his story whenever he can, and he's not afraid of getting into the intimate details, either. He's also a big believer in advocating for yourself as a patient, asking family doctors for PSA tests and not taking no for an answer.
"Nobody wants to deal with cancer. Nobody wants to go through it, but when you have the opportunity to learn from the experiences of others, it can help you prepare for whatever comes next," says Darren. "The more you know, the easier it is to process your options and move forward on your journey back to health."
Prostate cancer is the most common cancer for Canadian men. By supporting cancer research, our donors are helping patients like Darren confront their diagnosis with dignity and confidence. When you choose to care, anything is possible.