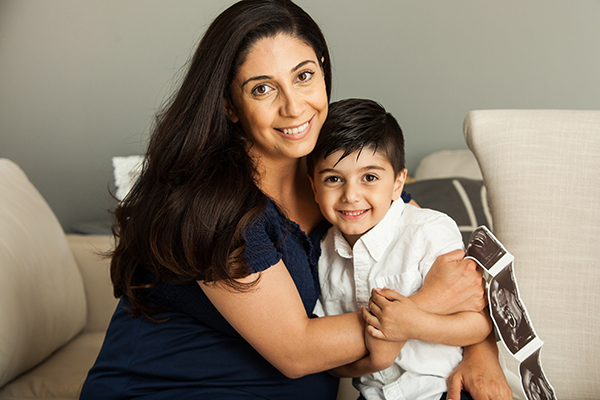 CTV's Reta Ismail shares her story with London Health Sciences Foundation:

I remember the moment my son Nero was born like it was yesterday. For the first time in my life, I felt my heart beating on the outside. It was truly the best moment of my life being able to hold him in my arms and kissing his little forehead for the very first time.
He will be turning five this coming August and it feels as if time has flown by. I am now pregnant with baby number two. But this is not my second pregnancy. Like many women, I have suffered from pregnancy loss, twice in the last three years, making this my fourth pregnancy. I lost a set of twins in 2015 due to underdevelopment of their organs, and had a miscarriage at five weeks the following year.

The past several months of my current pregnancy have had their long, sluggish days full of nausea and illness, but I am so grateful to have made it this far in my pregnancy.
I would take all of these pregnancy symptoms along with a handful more knowing that I will get to hold my healthy baby girl in a few months.
Due to my medical history with the last two unsuccessful pregnancies, my family doctor said I might be considered high-risk. As a result, I was referred to the Department of Obstetrics and Gynecology at London Health Sciences Centre. I can't say enough good things about the staff at the hospital. My physician, Dr. Barbra de Vrijer, along with staff and all the nurses have been phenomenal – accommodating my schedule to make sure I get to see Dr. de Vrijer once a month for my checkups and greeting me with smiles and a calm nature that puts me at ease during every visit.

I first met Dr. de Vrijer when I was pregnant with my twins. She had reviewed my ultrasounds and had to break the news to me that the pregnancy wouldn't end well. She is compassionate, highly educated, and an asset to the hospital. I went to see Dr. de Vrijer with this pregnancy at 12 weeks to review my dating ultrasound and my first trimester blood work. The results had come back with concern that my baby would have a slight chance of developing a chromosome disorder. I was reassured by my doctor that this did not mean it was a positive screening for a chromosome disorder, but rather that I required further testing. My husband and I wanted to be prepared, so we decided to move forward with the testing. Results take up to 10 business days and the waiting was agonizing. Because of my past experience, I couldn't help but fear the worst.

Thankfully, our results came back indicating a very low risk for any abnormalities. After reviewing my 20-week anatomy scan, my doctor reassured me that the baby is growing and everything is going according to plan.

While I was waiting to get my results, I spoke with other moms who were also going through the uncertainty of prenatal testing. The importance of early detection and being able to get as much accurate information as possible is crucial to help reduce the expecting mother's anxiety.
Being pregnant is truly a miracle and every woman deserves to be able to enjoy the journey without the added worry of medical uncertainty. By reducing that uncertainty, as well as minimizing risk to the baby, new research and technologies such as early-pregnancy ultrasounds will lead to healthier, happier mothers and families.
Thanks to generous donor support, LHSC has begun acquiring new ultrasound equipment and software, and pursuing novel research supporting Maternal Newborn Care.
Reta Ismail is a news reporter and weather specialist with CTV London. She recently gave birth to her beautiful daughter, Adessa Grace, on August 24, 2018. Read her birth story here.