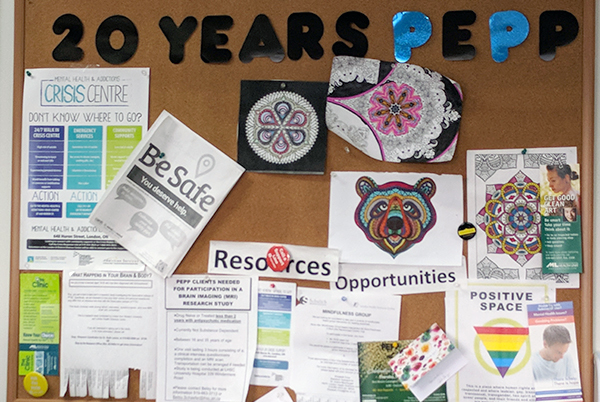 Sabrina Pont is a doting mother of two, a housekeeper at the Hampton Inn in London and enjoys spending time with her loving boyfriend and children. She is often a pillar of support for her friends and family, who describe her as "a big sweetheart with a huge heart."
Three years ago, it was those same friends and family who served as Sabrina's own pillar of support when she began experiencing frightening mental health symptoms.

When her son Dreyden was four years old, Sabrina started hearing voices. Over time, the voices got louder and more prominent. She couldn't make sense of what was real and what wasn't – it was consuming her life.

"I wasn't sure which way was up or down," Sabrina said. "Everything seemed like reality."
She went to London Health Sciences Centre's (LHSC) Victoria Hospital, was diagnosed with schizophrenia and was admitted to the mental health care inpatient program, where she received full-time treatment and care for three months.

Though it was heartbreaking to be away from her son, she felt comfortable at the hospital. One thing she knew for sure was that she needed to be at the hospital in order to get well. During her stay, she participated in activities and therapy through the Prevention and Early Intervention Program for Psychoses (PEPP) program, which included outdoor walks that provided much-needed relief during her treatment and recovery.

Through medication and therapy, the voices began to fade and she eventually felt well enough to return to her life. Her friends and family were there to support her through this difficult time, as was the hospital.

The support workers at PEPP helped Sabrina obtain funding through the Patient Assistance Fund, so that she wasn't faced with the added financial burden associated with taking time away from work for her treatment. The fund helps patients who are faced with short-term expenses related to treatment such as transportation, emergency living expenses, child care and medications not covered by insurance.

"The Patient Assistance Fund really helped me out," Sabrina said. "I received YMCA passes, which helped me keep active and healthy; Superstore gift cards, which were great for Christmas for my children; and FreshCo cards, which helped me afford my son's school snacks and formula for my daughter."

It's now been three years since Sabrina has heard any voices.

"Life is good now – I feel stable," she says.

She takes medication and continues to receive care and support from the PEPP program, where she participates in the Recovery, Activity & Participation (RAP) program and cooking classes with other patients struggling with similar issues.

Both PEPP and the Patient Assistance Fund rely on donor support, and Sabrina says she's grateful for all the donors who helped her get the life-changing help she needed.
"I think people should donate to help others get the support they need in order to survive a traumatic experience," Sabrina says.