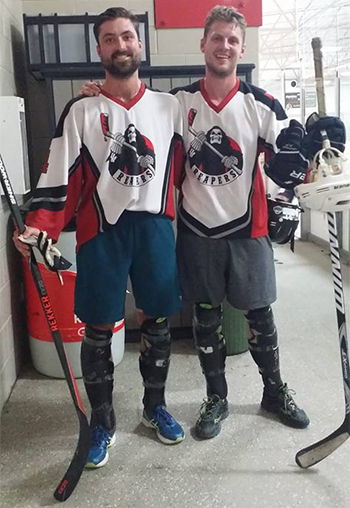 Scott Gagnon (left) has had a passion for sports for as long as he can remember. In high school he dedicated his time to a long list of competitive sports, playing hockey, soccer and volleyball almost every day of the week.

It was during high school that Scott, now 26, noticed a growing pain in both of his knees while he was playing sports. Eventually, the pain became so unbearable that he sought help from the professionals at Fowler Kennedy Sport Medicine Clinic (FKSMC). He began working with Dr. Lisa Fischer, who discovered that he was suffering from Patellofemoral pain syndrome (PFPS), a common knee pain in athletes caused by intense physical activity.

Scott was fitted with knees braces to wear when he played sports. He found that physiotherapy helped reduce his pain and strengthen his knees, so he continued working with the experts at FKSMC every other week.
Just after high school, Scott broke a middle bone in his right foot. He went to the emergency room at LHSC where he was fitted with crutches and an aircast. With this new injury, Scott returned to FKSMC where he began more customized physiotherapy. "They got me into doing exercises and activities related to the sports I was playing at that time," Scott says. "They helped me with the sports I wanted to get back to in just three weeks."
In 2015, Scott injured his left foot during a soccer game. He planted his foot in an awkward position and heard a tearing sound. "I thought I ripped my shoe, so I ran off to the bench and noticed my shoe was fine." It was then that Scott's left foot began to throb. "I didn't even bother going to emerge or anything. I just walked into Fowler," Scott says. "They did x-rays and everything right on the spot."
It turned out that he had torn all the ligaments on the top of his foot, displacing many of its joints. This meant that he would require surgery to repair the torn ligaments. Scott says his recovery from surgery had the biggest effect on his life, "I went from playing sports four times a week to none. So not being able to do that was a bit tough on me mentally as well as physically." Just four days after his surgery Scott was able to return to work, and thanks to FKSMC, after four months he was back on the soccer field.
"I'm so familiar with Fowler Kennedy now and I've always had a very positive experience," he says. "I've been blessed to have them."
Scott's appreciation for Fowler Kennedy led him to volunteer at last year's Gravel Growler in support of the sport medicine clinic and hopes his experience can help spread awareness about their services. "I think what I appreciate the most about Fowler Kennedy is that they customize your exercises and activities around the sports you do," he continues. "They have been so helpful through my three major injuries, so I want people to know that they have options for their sports injuries."
Three years later, Scott is playing more sports than ever and still benefits from customized physiotherapy at Fowler Kennedy Sport Medicine Clinic. He returns twice a year to ensure he continues to heal and play sports as best he can to reduce the risk of further injuries.