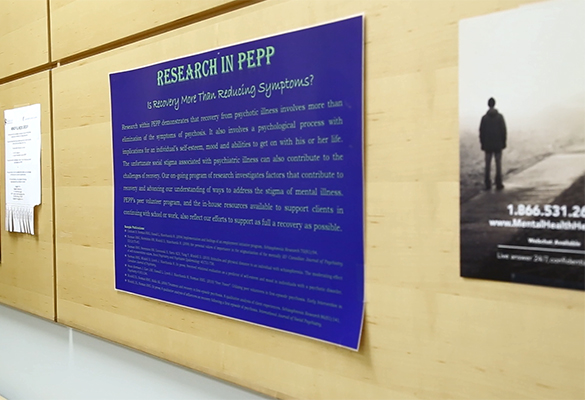 Steve is a 41-year-old Londoner, Western graduate and avid hockey fan. He explains how his favorite team, the Toronto Maple Leafs, has improved over the last few years.

"They've been doing well. The old saying goes – if you've hit rock bottom, the only way to go is up – and that's with anything in life."

Six years ago, Steve experienced rock bottom. His mental health began to deteriorate, and he attempted to take his own life. After a long recovery in hospital, he was referred to London Health Sciences Centre's PEPP Program (Prevention & Early Intervention Program for Psychoses) so he could get the support he needed.

PEPP is a community-focused mental health program dedicated to providing treatment and support to individuals experiencing mental health issues. With services ranging from employment counseling, social groups and education, PEPP participants are able to get back to doing the things they love.

Through the donor-funded Patient Assistance Program, PEPP also provides financial support for everyday items in order to help patients continue their treatment path. Items can include things like YMCA memberships, bus tickets and grocery gift cards.

With his YMCA membership, Steve was able to get back to doing something he loves. "I use my YMCA pass quite a bit. I used to do karate a long time ago, so the pass has actually allowed me to go back to doing karate," Steve says.

Steve has never felt comfortable in a hospital environment, but after participating in the PEPP Program he says it has changed the way he feels about hospitals. "I do enjoy the PEPP program; it gets you out of the house and I get good support from the staff," he says.

Since experiencing his own battle with mental illness, Steve has gained a new perspective; learning not to judge people before knowing them – especially those with mental health issues.
"There is a stigma surrounding mental health. It's very misunderstood," he explains. "And I was guilty of that too – labeling people as crazy".
Steve now finds that he is more understanding and respectful towards his friends, family and even strangers.

"Do unto others as they would do unto you." Steve says. "I think we can always be more kind."

Although the journey was a struggle, Steve admits that his experience has taught him a lot, and put things into perspective. "I don't take things for granted. I'm lucky to be alive. I'm breathing and healthy."