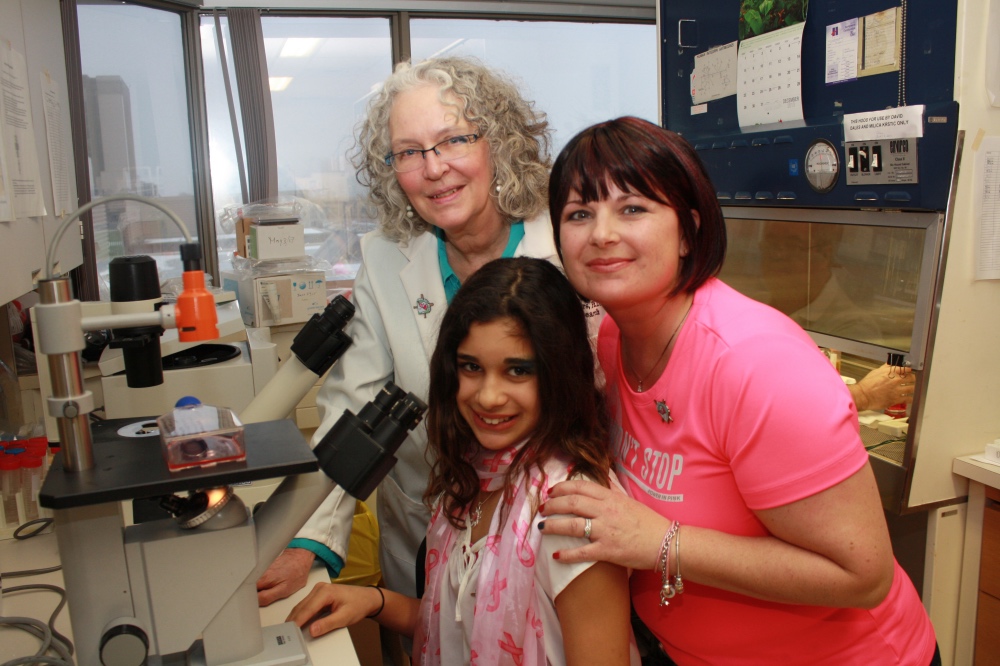 Coming to terms with breast cancer was just the first step for Tammy Ross and her husband, as Tammy still had to tell her children, including her eldest daughter, 11-year-old Gabrielle.
In early September, Tammy Ross - a mother of four from London - was diagnosed with invasive ductal carcinoma, the most common form of breast cancer. Coming to terms with the diagnosis herself and with her husband was only the first step, as Tammy still had to tell her children, including her eldest daughter, 11-year-old Gabrielle.
"We explained to Gabby that mommy has breast cancer and will be having surgery, chemotherapy and radiation to get rid of it, but that I would be ok in the end. We cried on each other's shoulder and hugged for a long time," says Tammy.
While it was an emotional and frightening moment, Gabrielle was no stranger to cancer and had reason to be hopeful, having seen her step father survive osteosarcoma, a form of bone cancer that often occurs early in life. However, Gabrielle wasn't content to just sit back and hope for the best, she wanted to actively make a difference.
My mother's diagnosis gave me some inspiration and the passion to help find a cure and to end the fight forever," says Gabrielle.
Gabrielle started making pink bracelets and selling them to friends and family. Following Tammy's double mastectomy on October 4, 2013, Gabrielle and two of her baseball teammates, Abby and Pam, held an impromptu bake sale hoping to raise $50 - and instead added an incredible $425 to their donation pot. Later, with the added help of teammates Lucy, Amanda and Maggie as well as cousins Emma and Alyssa, the total grew to $2,100, all within two months of Tammy's diagnosis.
"I felt so overwhelmingly proud of her. Gabby wants to find a cure, so no other mommy has to go through this. She understands that research is the key, so donating to a research program was the obvious choice," says Tammy.
Specifically, Gabrielle's $2,100 donation was made in support of the Pamela Greenaway-Kohlmeier Translational Breast Cancer Research Unit at London Health Sciences Centre's London Regional Cancer Program (LRCP), headed by world-renowned cancer researcher Dr. Ann Chambers.
"I am so touched by the generosity of Gabrielle and her friends and family. Cancer affects more than the person with cancer - it affects their family and friends, too. Gabrielle accepted the challenge of a hard personal situation, and turned it into something positive. What a wonderful gift for Gabrielle's mother!" says Dr. Chambers.
On June 16, 2014, Tammy banged the gong at LRCP, a tradition that signals the end of radiation therapy for a patient and fills the atrium at LRCP with the sounds of hope and healing. While Tammy's journey is complete, Gabrielle remains dedicated to finding a cure.
"Being able to make that donation to support breast cancer research makes me feel proud and honoured that my friends and I have made a difference - and will continue to do so," says Gabrielle.
"We cried on each other's shoulder and hugged for a long time."
-- Tammy Ross