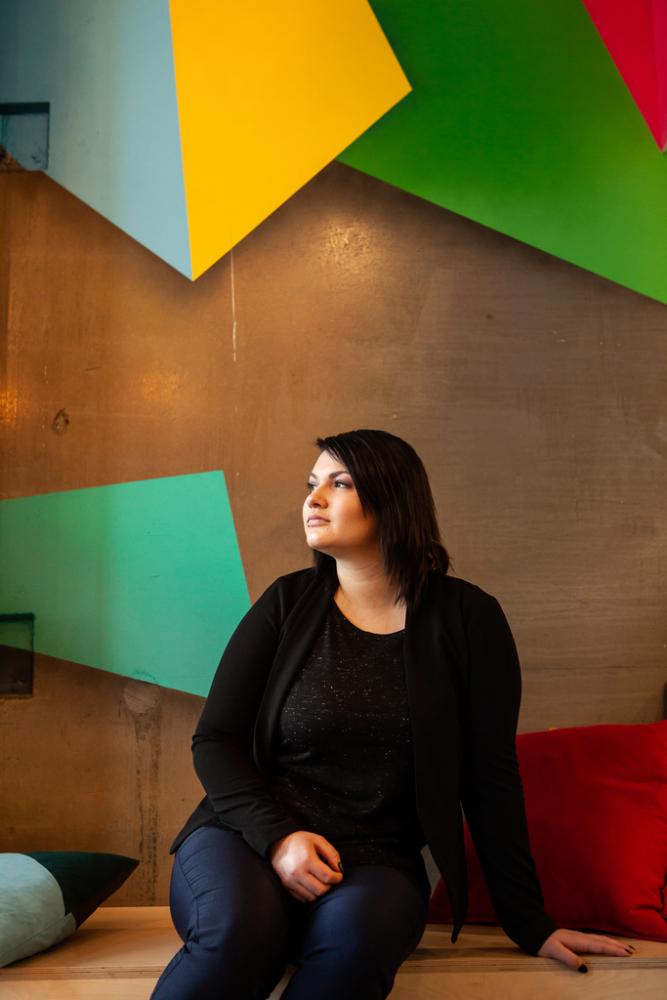 "Without FEMAP, I don't know if I would be here today. FEMAP helped me find my voice and gave me the courage to use it," says FEMAP patient Tandra Lepine, who bravely shares her story with the goal of helping others.

Tandra Lepine remembers having struggled with her mental health since she was a young child. When she was 9, she started experiencing a lot of unrest at home. She remembers witnessing a fight between her parents that led to the police coming to her home, which resulted in Tandra and her siblings having to stay at a women's shelter with her mother for several weeks.

Tandra is one of seven, and the responsibility fell on her to help take care of the younger ones. Her routine from late childhood and throughout her teenage years was school, homework, household chores, and then she would help her mother clean offices until after midnight.

When Tandra's former stepdad moved in with her family, she began to witness him being abusive towards certain members of her family, but she felt powerless to do anything. Tandra remembers feeling like she had to hide who she was, and began to isolate herself. At the age of 12, she began to be sexually abused by someone very close to her. For most people, home is a sanctuary and a safe space. For Tandra, home was volatile and unwelcoming, and it took a toll on her mental health.
"Wanting to take my life has always been in the back of my mind since I was 12. And unfortunately for most of my life, that thought has never really left my mind. It's always in there, sometimes just below the surface, sometimes buried," Tandra shares.
When Tandra started high school, she was bullied by her peers, and her mental health continued to deteriorate. In her senior year, her high school boyfriend was worried that she was going to hurt herself, and got the school involved. Tandra reflects on that time saying, "I had no idea that something was wrong until I was forced to get help."

Tandra was diagnosed with major depressive disorder, generalized anxiety disorder, and mild post-traumatic stress. Though the diagnosis was a starting point towards healing, Tandra had a long road ahead of her.

Life continued to be difficult for Tandra and around age 19, she began self-harming. Feeling like she needed a fresh start, Tandra moved to London in 2015 for work, where she continued to struggle with her mental health, and couldn't devote the time to healing because she was working all the time. One day, she hit a breaking point and went to a crisis centre. She found a social worker in London who told her about the First Episode Mood and Anxiety Program (FEMAP). She had her first appointment 3 months later.

Through FEMAP, she feels she is finally getting the help she needs, through psychiatry, nutrition counselling and group therapy. She meets with her psychiatrist every two-to-three weeks, and has participated in specialized group therapy that focuses on anxiety management and trauma. She has found FEMAP very helpful, "FEMAP is so different from other things I've tried. It's so much more hands-on. I don't feel intimidated. They are welcoming, and you're taken seriously."

Today, Tandra feels that she is still in the early stages of her recovery journey. She continues to be a patient of FEMAP, and is committed to working on herself. She is profoundly grateful for FEMAP, saying, "it helps hold me accountable, and gives me something to look forward to. It helped me find hope when I thought there wasn't any. It's helped me find my voice."

Tandra has used that voice to start her own website and podcast where she talks openly about her mental health struggles, and shares some of what she has learned at FEMAP. She is passionate about sharing her story because, "reading people's stories that you can relate to really helps. It makes you feel like you're not alone, and it gives you somewhere to start."

Tandra is incredibly grateful that London has good mental health services, saying it was a lot harder to find any support in smaller towns. Though she was fortunate to get into FEMAP fairly quickly, she says, "for someone who is struggling, a nine-month wait isn't realistic." It's why she's helping London Health Sciences Foundation fundraise for FEMAP through sharing her story and volunteering at Minds for Change.

When discussing FEMAP, she says, "there is a level of care there I haven't gotten anywhere else. They are interested in what's going on with you. Its more personalized."
You can help people like Tandra by donating today at lhsf.ca/FEMAP