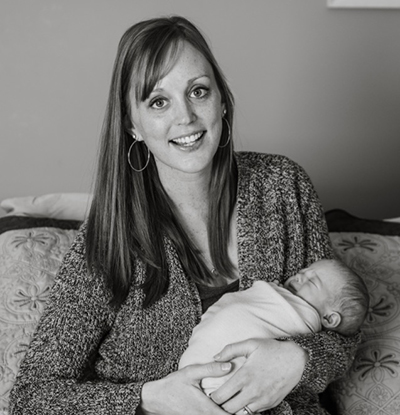 When crisis strikes, even the most strong-willed and independent must entrust their lives to the hands of others. Such was the case for Tory Struyf, a hardworking mother from Lambton Shores, Ontario.

Pregnant for the third time, Tory thought she knew what to expect when it came to childbirth. Life was business-as-usual as she worked triple duty as a full-time Agricultural Account Manager off-farm, supported the family poultry and crop farm, and cared for her two toddlers. 
When she was 31 weeks pregnant, an ultrasound revealed the first sign of complications: a complete previa, meaning the placenta was situated below the fetus, blocking the baby's passageway for birth. The previa remained over the next few weeks, so Tory's doctor scheduled her for a caesarean section at 39 weeks. He admitted her to the hospital a week early, knowing Tory would have a long commute from her farm to the hospital in Sarnia if she went into labour before her scheduled surgery, which could pose a serious threat to both her and her baby. 
"I was worried for the baby's safety due to the complications, but never concerned about my own safety," Tory says. 
On February 1, 2017, after a challenging surgery during which the doctor had to cut through the placenta to reach the baby, Tory's care team delivered her healthy new son, Rhett Edward Struyf. Tory's journey, however, was far from being over. 
She continued to bleed uncontrollably. The team performed an emergency hysterectomy to remove her uterus in an attempt to stop the bleeding. But the bleeding continued and Tory was transferred to the ICU where she was placed on life support. She developed a condition called Disseminated Intravascular Coagulation (DIC) which is a serious blood protein disorder caused by extensive trauma and can be fatal.  She was experiencing widespread clotting throughout her body, which was causing her to lose blood and platelets at an alarming rate.
While Tory's care team performed several blood transfusions, they brought baby Rhett down from the nursery to be with his mother. As they gently laid the newborn on top of her while her body fought for its life, Tory's plummeting blood pressure stabilized much to everyone's surprise. 
With renewed hope, the team in Sarnia knew Tory would need advanced care and additional blood supplies in London. Before she could leave, they performed a third, high-risk surgery to control some of the bleeding and to provide her with more blood to sustain her for the trip. While still on life-support, she was transported to London Health Sciences Centre (LHSC).  
A couple of hours later, Dr. Barry MacMillan, Chair/Chief of Gynecology at LHSC, greeted Tory's shell-shocked family when they arrived at Victoria Hospital.
"My family talks about the sense of calm and confidence Dr. MacMillan greeted them with and how they felt like there was hope for me to come through," Tory says. 
Reassured by Dr. MacMillan's words, some of Tory's family members returned home to take care of her newborn baby and the other children. 
Tory was scheduled for a fourth surgery three days later, her organ function monitored closely in the interim in case emergency care was required. The surgical team carefully stitched up her internal organs and closed her incision site with 29 staples. With the risk of bleeding finally mitigated after receiving blood and blood products from more than 50 units, Tory was taken off life support. She woke up the next day for the first time since before her caesarean to discover how close she had come to never being able to see her baby boy. On the road to recovery, she anxiously anticipated returning home to meet him. 
The care team at LHSC worked with her to help her return home within a matter of days. Through physiotherapy and occupational therapy, Tory regained the use of her limbs while her body healed itself. About a week later, she was back on her feet with the aid of a walker and on her way home. 
February 10, 2017, was a day Tory will never forget. It was the day she met baby Rhett after what was a life-changing, tumultuous two weeks. 
"The first time I was able to meet Rhett was amazing and terrifying all at once. I was still in so much pain and couldn't care for myself. I was worried how I would care for this new little guy at home. But we bonded very quickly – it's like he knew I was coming home the whole time and just waited for me.
Despite her body's trauma, she was able to successfully nurse Rhett with the help provided by LHSC nurses and lactation specialists. Tory continues to see Dr. MacMillan to monitor her recovery. She says she's making great progress and her son is growing well. 
"I received amazing care at both hospitals," Tory says. "Had it not been for the support and care I received in London and Sarnia, I wouldn't be home living and loving life with my family today."