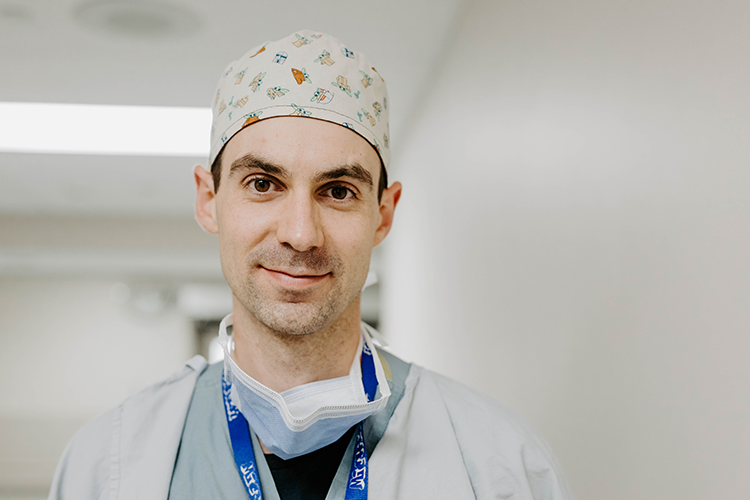 Shaping the Future of Perfusion through Dedication and Mentorship
Nolan Cooper is a dynamic and driven perfusionist who found his true calling during his nursing days when he witnessed the world of cardiac care. He found himself drawn to the very essence of perfusion—its fusion of technology, hemodynamics, and patient-centred care. His passion lies in the intricate world of controlling advanced devices and navigating the complexities of hemodynamics. Thanks to donor funding, Nolan became the first graduate sponsored by London Health Sciences Centre (LHSC) to complete the perfusion program at the Michener Institute of Education. He is on a remarkable path in his early career, driven by his commitment to perfusion and education.
 
The Lifeblood of Cardiac Surgeries
The primary responsibility of a perfusionist is operating the heart-lung machine, also known as the cardiopulmonary bypass machine. Perfusionists enable the surgical team to operate on the heart in a bloodless and motionless environment. Through his expertise, Nolan ensures the success and safety of cardiac surgeries, allowing the surgical team to focus on their intricate work.
Beyond the operating room, Nolan contributes to critical care units, working with ventricular assist devices and Extracorporeal Membrane Oxygenation (ECMO); a sophisticated technique allowing Nolan to provide respiratory and cardiac support, tailoring treatment to each patient's needs.
 
THE LHSC PERFUSIONIST INTERNSHIP PROGRAM
There are only about 400 certified perfusionists in Canada today. To address this scarcity, the internship facilitates access and acceptance into the ambitious and comprehensive perfusionist internship program at the Michner Institute in Toronto. By attracting top talent in the field and fostering their expertise, LHSC solidifies its position as a leader in care, ensuring the availability of highly skilled professionals and upholding an unparalleled standard of perfusion care across the country.
Enhanced Training and Mentorship
LHSC's Perfusionist Internship Program goes beyond education, providing advanced training and invaluable mentorship opportunities. Made possible through generous donor support, this program acts as a pivotal steppingstone for aspiring perfusionists like Nolan, equipping them with the necessary skills and competencies to excel in their roles.
Hospital of Choice
This innovative program has positioned LHSC as a hospital of choice for aspiring perfusionists, both nationally and internationally. The success of the internship program contributes to the overall excellence of LHSC's cardiac surgery department and ensures the continuity of high-quality perfusion care for patients in need.
Impact & Outcomes
More perfusionists are urgently needed to meet the rising demand for cardiac surgeries. LHSC's donor-funded internship program serves to help bridge the gap, allowing talented individuals like Nolan to integrate seamlessly into the existing team at LHSC. Supporting this program furthers LHSC's goal to deliver exceptional care to patients while fostering excellence in the next generation of perfusionists.