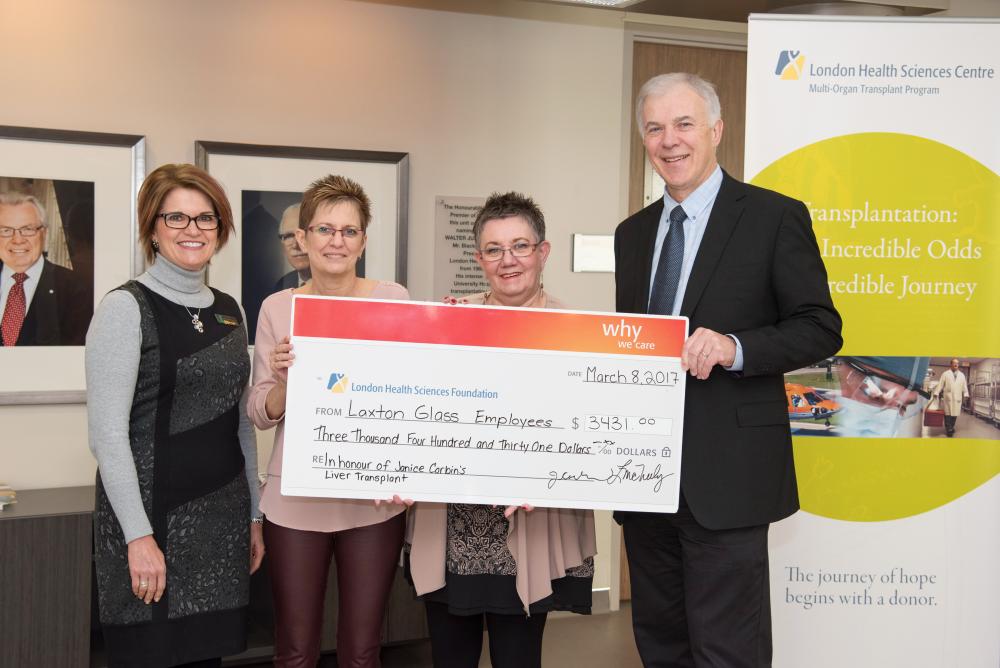 Family, friends and colleagues were always a wonderful and important part of Janice Corbin's life, but the importance of those bonds and support became all the more clear when she went from the picture of health to being in desperate need of a liver transplant.
While in the midst of helping her daughter plan her wedding, Janice was diagnosed with autoimmune hepatitis – a condition causing her body to attack its own, inflamed liver – and was referred from Grand River Hospital in Kitchener to London Health Sciences Centre (LHSC).
During Janice's stay at LHSC, her daughter would visit often to keep her involved in last-minute wedding decisions. When the big day arrived, her daughter sent sparkling cider and glasses to the hospital and one of Janice's friends sent a dress. Together with her husband and another couple who dressed up for the occasion, Janice celebrated her daughter's wedding in Owen Sound over Skype – but that wasn't the only reason to celebrate.
"The best part of the wedding was Melanie the nurse coming into my room really early the day after the wedding to say they think they found me a liver. That was the best wedding gift ever," Janice, a 53-year-old IT & Facilities Coordinator at Laxton Glass LLP, says. "We cried together when I received the news."
Between the foresight and generosity of her organ donor and the care she received at LHSC, Janice knows she was fortunate. But thanks to her colleagues at Laxton Glass LLP, she also knows her ordeal will help less fortunate patients.
Through a variety of fundraising efforts from dress-down days to pizza lunches and cupcake-o-grams, Janice's colleagues raised a total of $3,431 for the Liver Transplant Patient Assistance Fund at LHSC, which supports patients and families in need with expenses related to liver transplant.
"When someone in your personal or work family is hit with such a serious condition, you feel helpless but you want to do something," Louise McNeely, Office Manager, Laxton Glass LLP, says. "In Southwestern Ontario, we don't have to go too far to be cared for in some of the best hospitals in the world. Unfortunately, some residents don't have the same proximity to hospitals as we have and they must incur travel and hotel expenses to get treatment. We were thrilled to be able to raise funds and direct them to helping others who might need financial assistance."
On March 8, 2017, Janice was back at LHSC, this time under much happier circumstances, delivering Laxton Glass LLP's donation along with Louise.
"In addition to providing funds for the many needs of our outstanding transplant program, Janice and Louise have given us the additional gift of increasing transplant awareness in our community. It is this amazing spirit of generosity that has made donation rates in our region one of the highest in Canada and allows us to help so many patients in need of transplants. It is clear that Janice works with remarkable people and we are sincerely grateful for their fundraising," Dr. Anthony Jevnikar, Co-Director, Multi-Organ Transplant Program, LHSC, says.