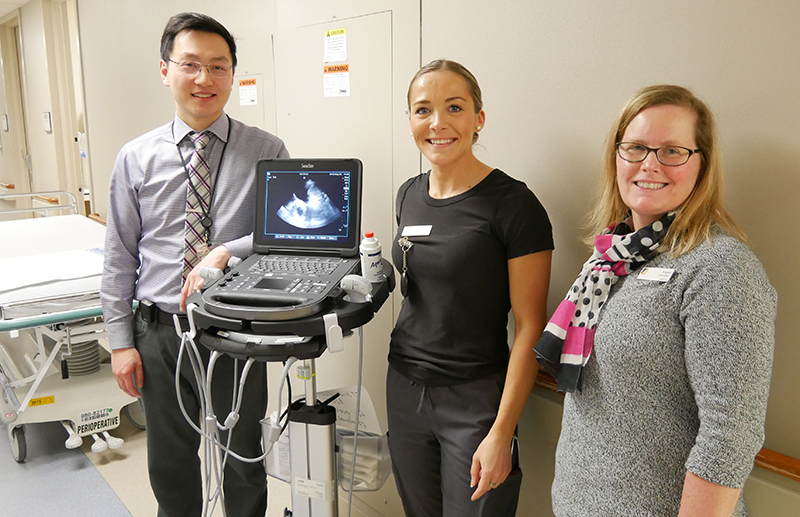 Your IMPACT

It's a typical day on the General Medicine floor at University Hospital: A patient seen by LHSC's Internal Medicine team is newly diagnosed with liver disease.
Dr. Jeff Yu treats the complications and arranges for follow-up care once the patient is discharged. On the day of discharge, the patient experiences pain and bloating.
In the past, Dr. Yu may have sent the patient for a comprehensive ultrasound, which could take several hours or days, meaning the patient may need to stay at the hospital much longer than expected. But with a new, donor-funded portable ultrasound machine, he is able to produce images of the patient's abdomen within minutes, treat the issue accordingly and send the patient home.
This machine, called the SonoSite Edge II Ultrasound system, is used constantly for patients with a wide range of health concerns.
"A lot of patients have multiple issues that are competing with each other and it's up to us to try to solve the puzzle," Dr. Yu says. "This bedside ultrasound is an important tool in helping us put that story together."
The ultrasound not only helps with diagnosis, but it is also a much-needed visual aid for procedures like fluid drainage from the chest, lungs and abdomen, as well as guiding intravenous (IV) lines in the neck. These patients are often critically ill or in need of acute care, so the ability to have the machine at the ready is necessary in order to treat people before their symptoms get worse.
Because donors had the forethought to leave legacy gifts, this equipment is enhancing care for thousands in our region.