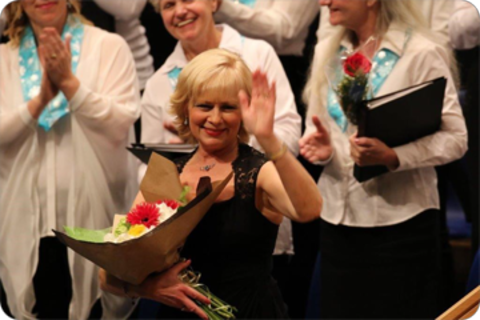 London, Ont. - Conductor Janet Heerema led the Celebration Chorus in a "Celebration of Life Concert" at Centennial Hall tonight. The 170-strong choir, with vocalists from 39 communities, entertained a packed audience of 1,500 plus while raising more than $56,000 for ovarian cancer research at London Health Sciences Centre (LHSC),
London Health Sciences Foundation's Women's Health Care Campaign Co-Chair Terry Zavitz was the evening's consummate emcee with some of the physicians and medical researchers from LHSC's London Regional Cancer Program introducing the musical pieces.
The concert showcased a mix of choral standards with captivating solos by soprano Catherine Sadler and baritone Mathias Memmel. The evening also featured outstanding instrumental accompaniment - including a particularly engaging drum session with a trio of percussionists using garbage cans that contrasted brilliantly with the evening's vocal arrangements.
While quick to credit the army of committee members, musical artists and volunteers for making the evening such a success, Heerema herself was a whirlwind of energy in orchestrating the event: From planning and managing behind the scenes to her on-stage direction - where she channeled 35 years of conducting church and community choirs throughout Ontario, England and Scotland into leading the uplifting ensemble performance.
It was her way of saying thank-you for the care she received at LHSC.
Ovarian cancer has a reputation as a "silent killer" because it's common for few or no symptoms to appear until the disease is at an advanced stage. In Heerema's case, a sharp pain from a hug led to testing which discovered that she had stage-three ovarian cancer - with two orange-sized tumours on her ovaries and some metastasis.
First came the surgery, after which she began chemotherapy where she lost her eyelashes, her hair fell out in clumps and she had to stay fairly isolated due to a compromised immune system. After treatment, when her hair started to grow back, colour returned to her skin and things started to get back to normal, Heerema felt it was time to celebrate and the idea of the concert was born.
During her diagnosis and treatment, Heerema discovered that she carries the BRCA2 gene, which increases the risk of female breast and ovarian cancers. She wants to raise awareness of this risk in others, but she sees research as the key to a cure and is even participating as a clinical trial patient.
UPDATE: On October 29, 2016, Janet Heerema passed away from acute myeloid leukemia. Her husband Jerry wishes this story to remain online in hopes that it will inspire others to support cancer research. Learn more about LHSF's Cancer Care Campaign.