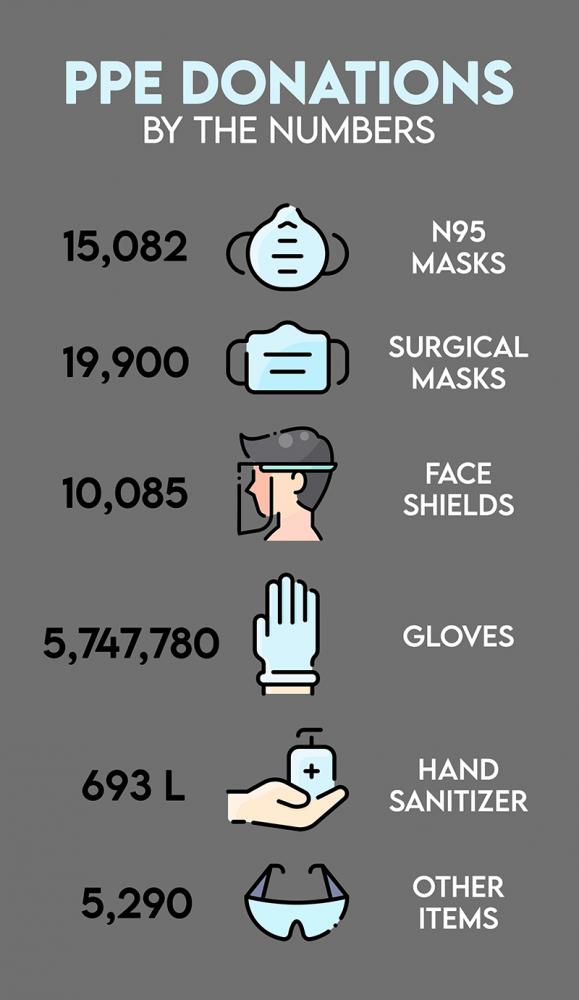 Thank you for your tremendous donations of supplies and funding towards much-needed equipment.

In addition to the incredible community contributions of Personal Protective Equipment (PPE), shown to the left, you are helping LHSC purchase the following equipment, giving patients improved access to the highest level of care:

The Gift of Breath - New Ventilators: Ventilators are giving COVID-19 patients in critical care life-sustaining oxygen. In the most severe cases, COVID-19 damages healthy tissue in the lungs, making it hard for them to deliver oxygen to the blood. Lifesaving mechanical ventilators feed oxygen into the lungs through a tube inserted down the throat, also adding heat and moisture to match the patient's body temperature.
Optimal Comfort - ICU Beds: These specialized beds are outfitted with all the necessary, life-saving equipment such as vital monitors and IV carts. Critical care patients are immobilized for long periods of time — these modern beds are helping to keep them comfortable while in the hospital.
Faster Diagnosis - DNA Testing Kits: LHSC began providing COVID-19 tests for 46 patients per day, with a 2-day turnaround for results. Through the purchase of DNA Extractors, the Pathology and Laboratory Medicine (PaLM) team at LHSC is performing more than 1,300 tests per day. LHSC is now offering community outreach in long-term care homes to test vulnerable patients. These DNA extractors help diagnose patients earlier and allow treatment to begin sooner to prevent further spread of the virus.
Relief in Seconds - Glidescopes: A glidescope is a necessary tool in intubating (inserting a breathing tube) in patients. Dr. Adam Dukelow spoke about the importance of these at the Heroes of Health COVID-19 Stream-A-Thon, and our donors answered the call. All six needed glidescopes have now been funded. These new units have disposable parts, which cuts down the time required to intubate between patient use. Doctors can intubate patients at the first signs of airway distress, providing them fast relief from the more severe effects of COVID-19.
You, our donors, have clearly shown that we truly are all in this together. We couldn't do it without you. Thank you for supporting this vital equipment that is improving patient access to care in the Critical Care Unit, and will continue to do so well beyond this time.