Donors to LHSF had the foresight to leave significant gifts towards future research needs. Their legacy is changing the face of how COVID-19 is tested and treated.
LHSF is the lead funder for a globally-acclaimed study happening right here in London at Lawson Health Research Institute that's uncovering groundbreaking new details about COVID-19, including the discovery of six molecules that could be targeted with life-saving treatments.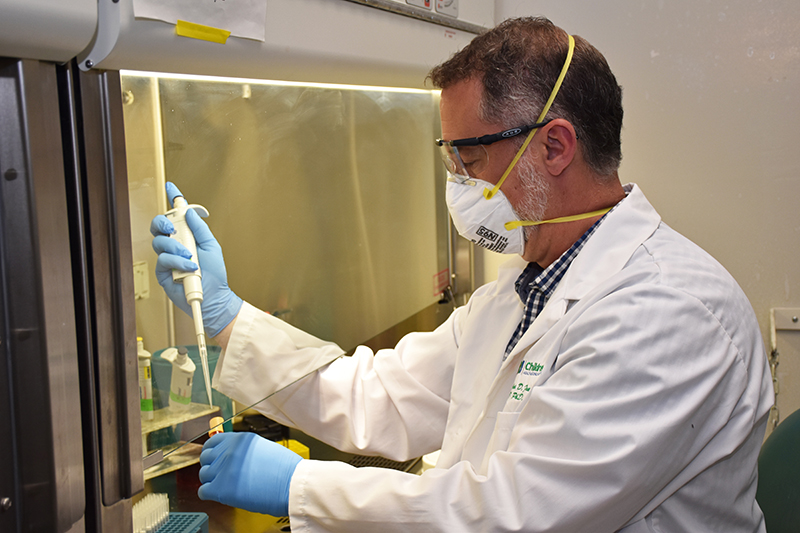 Dr. Douglas Fraser, a paediatric critical care physician and Lawson Health Research Institute scientist, along with his team, performed rigorous lab testing to compare local blood samples of patients with COVID-19 with samples from patients not infected with the virus.
Reports from scientists and physicians have found that some patients' immune systems go into overdrive when faced with the virus, causing an exaggerated response known as a "cytokine storm" that can cause irreparable damage to the lungs and other organs. Essentially, cytokines help repair the body when released in small doses, but if released into the bloodstream at an unstoppable rate — as is the case for some patients with COVID-19 — they can be fatal. These are the patients who end up in critical care with few known treatment options.
However, Dr. Fraser and his team investigated a number of molecular biomarkers that play a key role in the body's heightened immune response. He believes that these potential targets in our cells could be treated with therapies that could slow or block this fatal response enough to provide patients with better outcomes.

By studying blood samples from critically ill patients at London Health Sciences Centre (LHSC), the research team identified a unique pattern of six molecules that could be used as therapeutic targets to treat the virus. The study was published in June in Critical Care Explorations. 
. 
The team also used AI to validate their results. They found that inflammation profiling was able to predict the presence of COVID-19 in critically ill patients with 98 per cent accuracy. They also found that one of the molecules was strongly associated with an increased risk of death when measured in the blood early during the illness.
"Understanding the immune response is paramount to finding the best treatments," says Dr. Fraser. "Our next step is to test drugs that block the harmful effects of several of these molecules while still allowing the immune system to fight the virus."
Dr. Fraser is a leading expert in this research, and was interviewed on CTV, Global News and CBC's The National.