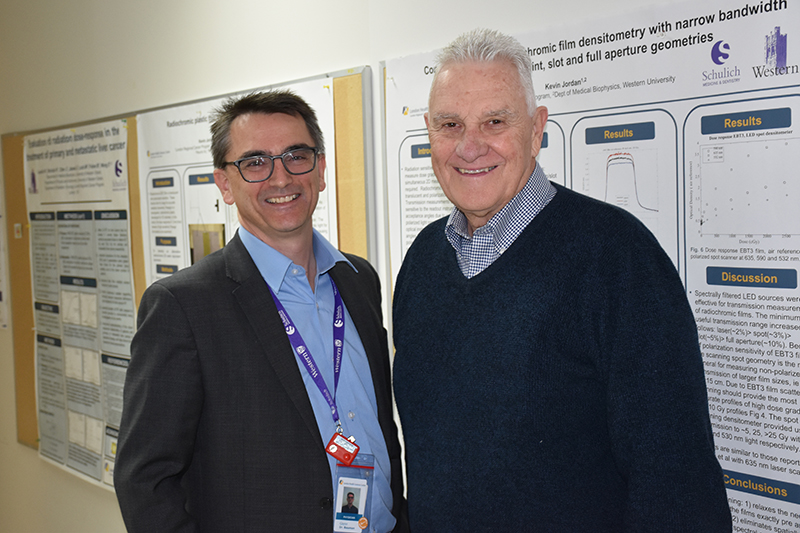 Your IMPACT

Cancer is one of the most pervasive and widespread diseases that affects all of us, whether directly or indirectly. Some cancers light up in an imaging scan or can even be visible to the naked eye. Others are so small that they're difficult to detect using even the most advanced imaging.
LHSC physicians may soon be able to spot even the most covert prostate cancers, thanks to new research into the use of injectable probes that seek out the cancer.

This breakthrough will help patients like Wayne Smith, whose suspected prostate cancer is not easily detected in conventional scans or biopsies. Wayne's blood work indicated prostate cancer, but he had several negative biopsies before one revealed cancerous cells at the back of his prostate. To be safe, he decided to have his prostate removed. When his blood tests raised alarm bells once again, doctors ordered a positron emission tomography (PET) scan for Wayne as part of a research trial led by Lawson Health Research Institute, the research arm for LHSC and St. Joseph's Health Care London.

"Nothing showed up on the scan, but that was good news; it meant the cancer was microscopically small," Wayne said.

Dr. Glenn Bauman, Wayne's radiation oncologist, felt confident offering radiation therapy to Wayne's initial tumour site because the PET scan eliminated the guesswork in determining if the cancer had spread.

The potential to reveal sites of cancer when blood tests suggest prostate cancer recurrence is why Dr. Bauman is researching the molecular imaging probe, invented at John Hopkins University and brought to Ontario in collaboration with the Centre for Probe Development and Commercialization. The probe is an injectable tracer that spreads through the body to find spots of cancer, which are then detected by a PET scanner.

Dr. Bauman is co-leading a multi-centre clinical trial in Ontario for patients whose cancers are difficult to identify through standard imaging. The goal is to gain important information to seek Health Canada approval, which would make these PET probes accessible across Canada as a standard of care for all patients with prostate cancer.
"At its most treatable stage, recurrent prostate cancer is often present at only very low levels in the body, making it extremely difficult to detect," Dr. Bauman says. "With this probe, we'll have a better chance of seeing where the cancer is recurring and designing the most appropriate treatment for the patient."
Visionary donors believed in this research from the beginning, leading to this stage of development of the probe – an innovation that promises to change the standard of care for men with prostate cancer.