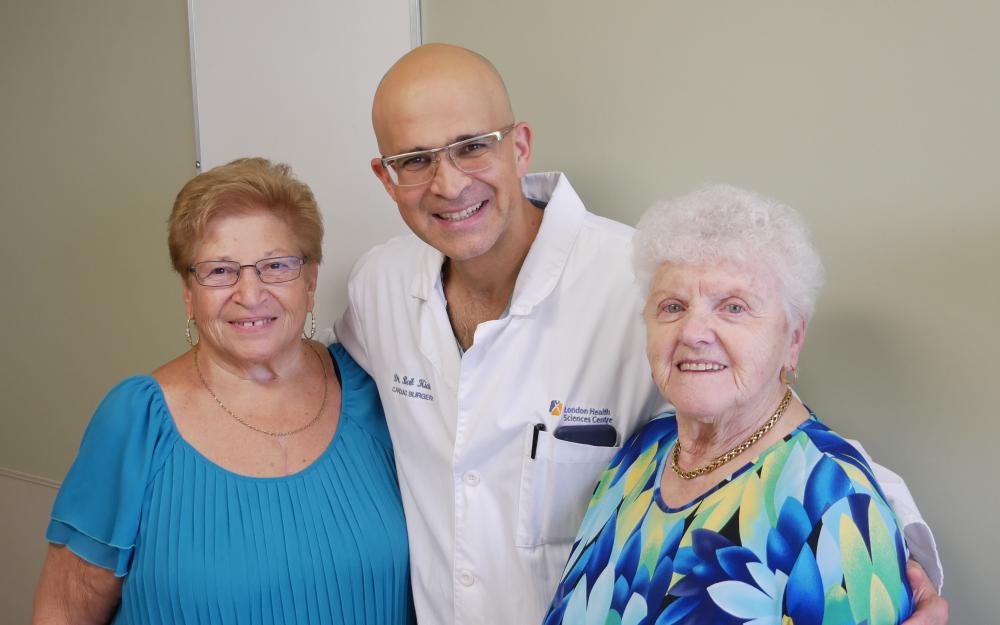 Your IMPACT

Life-saving, minimally invasive valve replacement surgeries are now part of our health care system thanks to donors who helped Dr. Bob Kiaii, Chair/Chief, Cardiac Surgery, and the rest of the team prove their effectiveness.
In fact, donations to the Innovative Valve Fund helped London Health Sciences Centre (LHSC) start performing these surgeries in 2008 – a full four years before they became covered by the province.

"If it wasn't for Dr. Kiaii and this surgery, I wouldn't still be here today," patient Rosa Mascherin says.

The Cardiac Care team at LHSC recently performed Canadian-first and world-first surgeries – but they wouldn't have been possible without donors.

In the Canadian first, Herlinde Poeltl had a new replacement valve called the Medtronic Evolut Pro Valve inserted through her thigh. In the world first, Rosa was in need of a similar valve replacement, but the artery in her thigh was too small so it was implanted directly through the main aorta. Both Herlinda and Rosa avoided open-heart surgery, meaning a faster recovery time and better long-term outcomes.

"I knew I wouldn't be able to manage much longer without surgery to fix my heart. I couldn't believe how much better I felt when I woke up from surgery," Herlinde says.

"Donor support of the Innovative Valve Fund enables these types of innovative procedures. The Ministry of Health and Long-Term Care would not fund the procedure, so donor dollars provided the proof of concept and led to an increase in funding – and more patients like Herlinde and Rosa receive the most effective care possible." — Dr. Bob Kiaii