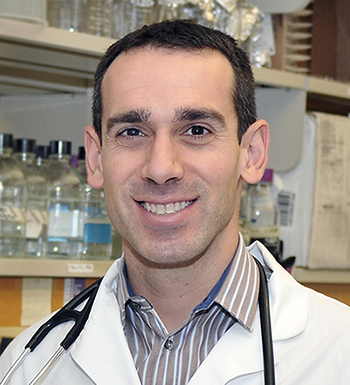 Dr. David Palma, Radiation Oncologist at London Health Sciences Centre (LHSC) and Scientist at Lawson Health Research Institute, is a strong advocate for cancer patients getting the high-quality care they deserve.

His new book, Taking Charge of Cancer: What You Need to Know to Get the Best Treatment, is the first "how-to" manual that shows patients how to obtain and understand their medical records, double-check their doctors' recommendations and ensure they are getting top-notch radiation, surgery or chemotherapy.
"Most patients are unaware that the quality of their cancer care can have a big impact on their chances of success," Dr. Palma says."For example, if a patient is undergoing a major cancer surgery or radiation, their chances of survival and the chances of the cancer coming back can depend on their choice of doctor and hospital."
The new book – released this past Canada Day – gives patients the specific tools, guidelines and information they need to take charge of their care plan. Not only is the book empowering and improving care for patients, it is also expanding the scope of their care by supporting cancer research. Dr. Palma is directing all royalties from his book to London Health Sciences Foundation's (LHSF) Cancer Care Campaign. As a lead researcher at Lawson's Gerald C. Baines Centres for Translational Cancer Research, Dr. Palma sees firsthand how donations drive discoveries that improve cancer care.
"In the past decade, cancer research has led to major innovations – providing better treatment options for patients diagnosed with cancer," Dr. Palma says. "The efforts of LHSF have led to major improvements in health care by funding research in London. Donating the proceeds of this book will help to move research forward for future generations."
Dr. Palma's book is available on Amazon.com and in Chapters and Indigo. More information can be found on his website: qualitycancertreatment.com.