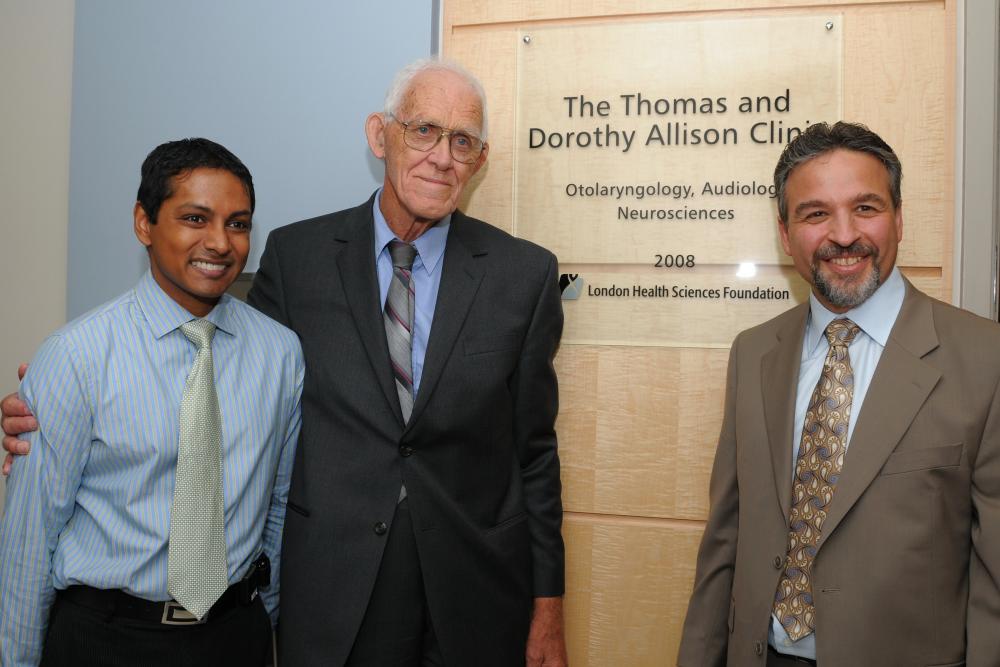 Tom Allison was raised to believe in helping others and he has followed that philosophy throughout his life. The retired farmer, who was recognized for his community involvement by being named a 2010 Ontario Senior of the Year, has even turned a challenging time in his own life into a plan to help others in the future.

Along with his wife Dorothy, Tom built his home on the family farm by hand and has always been determined to work through any personal difficulties. He needed that determination in spades after Meniere's disease—a condition of the inner ear that can result in hearing loss and vertigo that Tom had suffered from for years—began having a grave impact on his life. Severe balance-related problems made doing farm work extremely difficult; so much so that he often had to crawl from his tractor to his home just to have lunch. Eventually, he lost hearing in both ears, rendering him completely deaf. Sadly, this occurred around the time Dorothy was suffering from dementia and the fact that Tom couldn't properly hear or care for his wife was agonizing for him.

As fate would have it, Tom's doctor referred him to a world-renowned otology specialist at London Health Sciences Centre (LHSC) named Dr. Lorne Parnes, who was able to use innovative medical techniques to relieve Tom's symptoms. He even restored much of Tom's hearing with the use of a cochlear implant, which is an electronic medical device that essentially replaces the function of the damaged inner ear.

Grateful for the relief he experienced, Tom and Dorothy decided to help others who suffered from similar problems by supporting the ground-breaking work of Dr. Parnes. When Dorothy passed away in 2006, $50,000 from her estate was gifted to the Otology Program at LHSC in support of research and equipment for Dr. Parnes' work. Tom went on to make further donations totalling more than $1 million, establishing the Tom and Dorothy Allison Clinic at LHSC in 2008. Thousands of patients are seen at the clinic yearly and about 35 patients each year, which include young children born without hearing, receive life-altering cochlear implants that help them hear – some for the first time.

Still active at the age of 91, Tom may have slowed down a bit, but his spirit of giving remains strong. He has advised London Health Sciences Foundation (LHSF) he has left a bequest in his will to ensure the Otology program can continue its pioneering work into the future.

If you ask Tom why he wants to continue making a difference in the lives of others by leaving a bequest in his will and by taking the time to register the gift with the Foundation - he will probably tell you about a plaque on his kitchen wall that reads: "I expect to pass through this world but once; anything therefore I can do, or any kindness that I can show to any fellow creature, let me do it now; let me not defer or neglect it, for I shall not pass this way again."