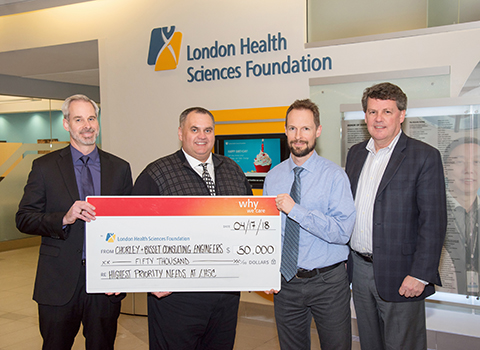 Charitable donations that have the biggest impact on helping patients across the region are often those not designated to a particular hospital area.
These donations contribute to a fund which the hospital uses to strategically invest in high-priority areas: key technologies, equipment, and care initiatives that government funding on its own simply cannot achieve.
A local company with a long history of charitable giving, Chorley + Bisset Consulting Engineers have been supporting LHSC's greatest needs through London Health Sciences Foundation's (LHSF) Annual Fund for more than two decades, recently topping up their giving with a $50,000 pledge, bringing their cumulative total to nearly $220,000. Now, their philanthropic mark is being honoured with a plaque in University Hospital's Patient Registration Area.
"We recognize the importance of creating and maintaining healing environments in which patients can receive the best health care available," says Bob Gordon, one of three Vice Presidents at Chorley + Bisset. "We have been involved with University Hospital since it was first built. Our projects are completed to the highest standards to facilitate the best possible care for patients. We believe strongly in giving back to the community and see that there's always a need for more funding at LHSC, so that they can maintain a high standard of patient care."
LHSF would like to thank Chorley + Bisset Consulting Engineers for their ongoing dedication to our hospital. To learn more supporting high impact hospital priorities, click here.