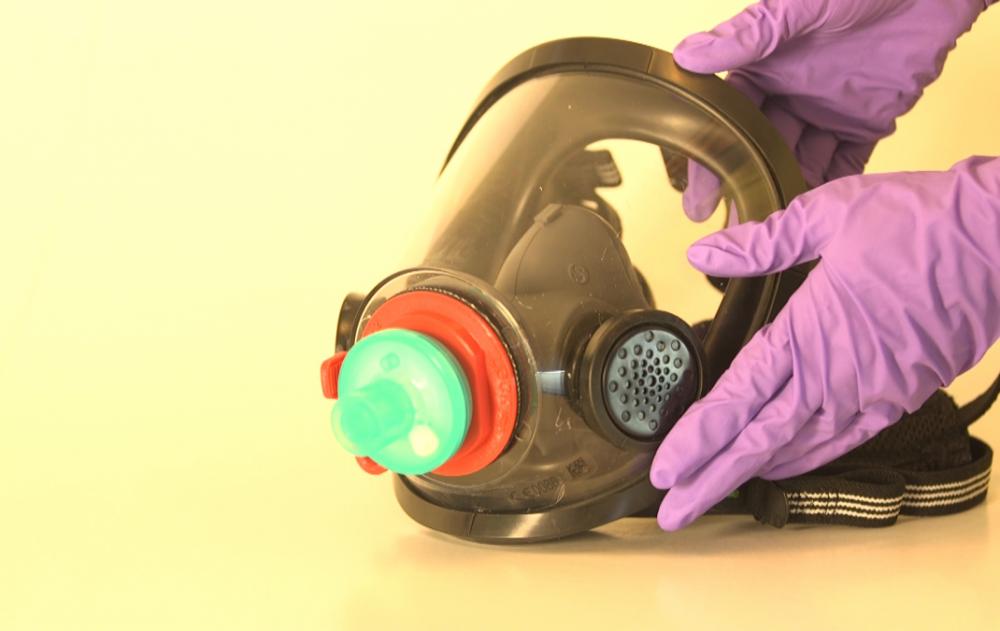 Your IMPACT


A new device that comfortably delivers oxygen to the lungs without the need for intubation could relieve the demand for traditional ventilators and glidescopes.
COVID-19 is spread primarily through inhalation of respiratory droplets. As we know, the most severely ill patients require a ventilator to help them breathe. Unlike invasive ventilators, which require a forced opening of the airway, non-invasive ventilators (BiPAP and CPAP machines) help patients breathe through a mask that provides positive pressure to keep the lungs open and functioning. While non-invasive ventilators may be effective for some COVID-19 patients, their use comes with a much higher risk of spreading infection through airborne droplets. Until now.
A new mask developed at LHSC and Lawson in partnership with University Health Network (UHN) and General Dynamics Land Systems-Canada eliminates that risk. It creates two tight seals – one around the patient's nose and mouth that connects to the non-invasive ventilators, and another around the face. Patients breathe in and out of a filter that captures any viral particles before they are released into the air.
The new mask, if successful, could put non-invasive ventilators back to work and greatly reduce the pressure on health care systems for traditional ventilators. Thanks to the help of donors, the device is now in clinical trials, with hopes of expanding its use beyond our borders.
"We hope it will help not only those in urban centres like Toronto and London, but people in remote communities around the world," says LHSC emergency physician and Lawson scientist Dr. Tarek Loubani.
In addition to patients with COVID-19, trial participants will include patients with asthma, chronic obstructive pulmonary disease (COPD) and congestive heart failure. The device will be used in emergency departments and has the potential to be used in ICUs, remote nursing stations and ambulances. It has also been designed for easy production (through 3D printing) in resource-strained locations, meaning this donor-supported technology could save lives in some of the most threatened areas of the globe.
Donor funding is helping Dr. Loubani and his team scale up the prototype of the mask to get it approved by Health Canada and into the hands of clinicians around the world.